Conserving Black-Necked Cranes in Bhutan
from Japan for Sustainability (JFS) Newsletter No.128
http://www.japanfs.org/en/mailmagazine/newsletter/pages/032790.html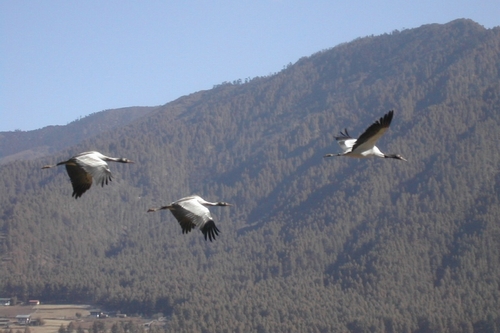 Copyright Dago Tshering

A certain village in Phobjikha Valley, Bhutan, has been covered in the Japanese media fairly often; the story is that the villagers choose to live without electricity because not installing an electricity grid with overhead wires helps conserve Black-necked Cranes that migrate to the valley. A book about Bhutan records an interview: To the question, "Would you really prefer to have electricity, or is conserving more cranes important to you?" Villagers answered, "It's good to have electricity, but we can do without it. But cranes are different from electricity. We feel happy when they visit this valley. We've seen them every year since childhood."
More recently, I heard that solar lighting facilities had already been introduced and installed in Phobjikha a few years ago, but that subsequently, electricity was provided through underground cable. In January 2013, I visited Bhutan to participate in a meeting of an international experts' working group for the "New Development Paradigm" being promulgated under a royal edict issued by the King of Bhutan. Before the meeting, I had the opportunity to visit Phobjikha Valley myself and heard about the efforts of the Bhutanese Royal Society for Protection of Nature (RSPN), which works to save the endangered cranes by involving local people in projects designed to help them live sustainably together with the birds. We would like to introduce this story from another part of Asia to our global readers. Responding to JFS's request, Tshering Choki of RSPN contributed the article below.
------------------------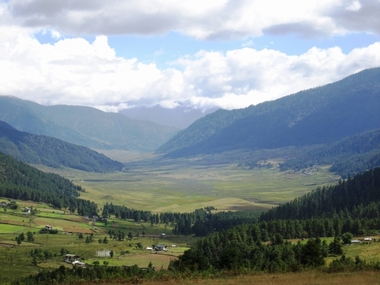 Copyright Tshering Choki

Phobjikha Valley, in the district of Wangduephodrang in the Kingdom of Bhutan, is a beautiful valley situated at an altitude of over 2,900 meters above sea level. The valley is divided into two administrative blocks, Gangtey and Phobji.
Both Bhutanese and foreign visitors are aware of its status as a winter habitat for the globally endangered Black-necked Cranes (Grus nigricollis), listed as Vulnerable in the IUCN (International Union for Conservation of Nature and Natural Resources) Red List and also as destination of cultural and religious significance. The valley also lies on the periphery of Jigme Singye Wangchuck National Park.
Since its inception in 1987, the Bhutanese Royal Society for Protection of Nature (RSPN), a non-profit, non-government organization dedicated to supporting environmental conservation in Bhutan, has been a key player in conserving the Black-necked Cranes in Phobjikha Valley.
The RSPN has about 30 staff with its headquarters based in Thimphu and field offices in Phobjikha, Shemgang and Wamrong, Trashigang. Its mission is to inspire the personal responsibility and active involvement of the people of Bhutan in the conservation of the Kingdom's environment through education, research and sustainable livelihood opportunities.
The RSPN's strategic plan for 2010-2015 calls for: 1) Contributing to environmental conservation through sustainable livelihood approaches; 2) Increasing the level of environmental awareness through education, advocacy and public participation in conservation; 3) Developing a research strategy for the RSPN that will support environmental conservation, sustainable development, countermeasures to deal with emerging issues and education; and 4) Strengthening the institutional and organizational capacity of the RSPN to support conservation, sustainable development, research and education.
The RSPN's initial step towards putting conservation initiatives into practice in Phobjikha was a project to count and monitor Black-necked Cranes. In 1999 the RSPN initiated a conservation/sustainability program with a view to encouraging the local community's participation and support for conservation. The program's ideal goal is for Phobjikha to become an area where the human population is prospering economically while living in harmony with nature. It hopes to achieve this through strategies that enhance economic benefits without compromising conservation.
One of the projects introduced in 2003-2004 by the RSPN as part of this program focused on alternative energy. The goal was to encourage local communities to understand the importance and utility of different alternative energy sources and technology for mitigating negative environmental impacts.
The government had no plans at that time to provide electricity to the area, and so the project focused on distributing and installing solar panels in the valley. Many local people held the opinion that electricity had not been introduced in the valley in order to safeguard conservation priorities, but the truth mainly involved the economic non-feasibility of providing electricity to the area.
The project lent support to 198 households and 22 institutions (including government and community institutions as well as temples and monasteries) in Phobjikha.
The RSPN alternative energy project offered to distribute solar lighting equipment to the community based on a four-year installment payment plan charging 7 percent interest. They decided not to offer the solar lighting equipment for free because they wanted the community to grasp the meaning of owning the benefits by incurring the costs, as opposed to depending on free benefits.
The interest earned goes to a Phobjikha conservation fund that will support small community projects in the future. The fund is managed by a local environment management committee comprised of representatives from the local government, the local community and women, as well as national government bodies and monastic institutions. This committee plays an important role in coordinating and representing local interests.
However, in 2006, the Department of Energy initiated a proposal for Phobjikha electrification and submitted it to the Austrian Government, which showed an interest in supporting conservation initiatives in Phobjikha by funding a project to put electric wires underground.
Part of this electrification project was implemented by the Bhutan Power Corporation Ltd. (BPC) with the involvement of the RSPN in site identification and environmental impact assessment to identify important crane habitats where wires needed to be underground.
A memorandum of understanding was also signed between the BPC and the RSPN to make sure that the project is implemented in a safe, reliable and aesthetically conscious manner, in order to safeguard the existence of the Black-necked Cranes and to enhance the socio-economic development at Phobjikha. In 2009 the BPC took on the responsibility of executing this work in the area to completion, while the RSPN was responsible for monitoring the project and confirming that it was executed in the most environmentally friendly way, in order to safeguard the habitat of the endangered species.
Also, to encourage environmentally viable tourism while helping people benefit from conservation, the RSPN has been promoting community-based sustainable tourism (CBST) in Phobjikha.
For the past few years, the RSPN has been helping set up basic ecotourism facilities, such as a visitor information centre (the Black-necked Crane Information Centre) and nature trails, etc. The RSPN has also been working with the communities to develop local tourism products and services, such as local guides, cultural programs, campsites, local souvenir products, etc. The Black-necked Crane festival, started in 1998, forms an important part of the CBST program.
Currently the RSPN, in partnership with the Japan Environmental Education Forum (JEEF) and with financial support from the Japan International Cooperation Agency (JICA), is implementing a CBST project. Part of the project will involve training of local guides, supporting souvenir prodution and developing homestay facilities so that visitors can stay at homes of local people in order to enjoy experience the local food and learn about local customs.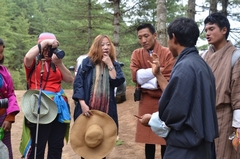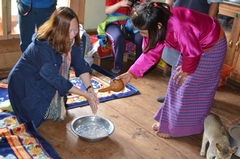 Left: A local guide interpretating information to a visitor Right: Guest preparing for a meal in homestay Copyright RSPN

------------------------
While listening to locals describe these conservation efforts, I was able to observe cranes relaxing in Phobjikha Valley through a telescope at the information center. Afterwards, I had a great time staying with a farmer's family and enjoying local food and drink under a stadium of stars. Having enjoyed this first-hand CBST experience, I hope the RSPN's efforts will continue to bear fruit. JFS will be keeping an eye on RSPN's efforts to attach importance to dialogue with local villagers while supporting sustainable coexistence between villagers and endangered cranes.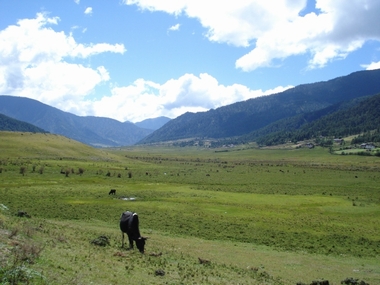 Copyright Tshering Choki

Written by Junko Edahiro and Tshering Choki, RSPN