Creating the Future Locally: Innovative Projects by Miraisozobu (For Future Company) in Atami, Japan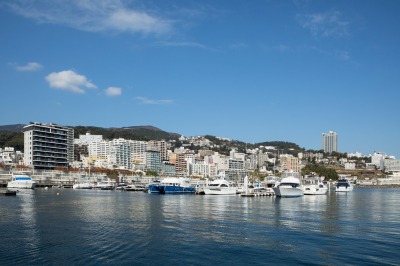 Atami in Shizuoka Prefecture
The world today is facing many problems simultaneously, such as climate change and marine microplastics pollution, resource depletion, weakening of local economies, rapid depopulation (in some places) and the aging of society. To address these challenges, we need to change the reality and create a better future.
Change always manifests itself at the local level. Walking around a town or local community and talking to people, we can often discover the local issues. Then, with global insight, information, technology, and support, we can think about, experiment, and implement solutions. If you are embedded in a local community, you can implement "glocal" projects and initiatives that are both global and local at the same time. As I have worked in the global arena, this sense has become increasingly strong for me.
With these thoughts in mind, in September 2020, I established a social enterprise named "Miraisozobu" (dba in English as the "For Future Company"), whose mission is to leave a clean and happy Earth to the children of the future. In this April 2021 issue of the ISHES Newsletter, we will introduce its activity to "create future from the local community," especially featuring our "Blue Economy Project," which evolved out of our Blue Carbon Project on the theme of absorbing CO2 through cultivating seaweed.

Miraisozobu, the "For Future Company"
Atami City in Shizuoka Prefecture, Japan, where our headquarters are located, is a coastal town facing the Pacific Ocean, just 40-minutes away from Tokyo by bullet train and with a population of 36,000. It has hilly streets and not much flat land, and both the forests and the ocean are nearby, so people can enjoy and experience the connections between them. Atami has been known as a sightseeing resort since early times and especially recently, more young people come to the town to enjoy the beach, marinas, seafood, and hot springs.
At Miraisozobu we are just one minute from the beach, and we rented the first to the third floors of the building facing the ocean. We belong to the local shopping street and neighborhood association, and maintain good connections with people and businesses in the community. On our first floor is a cafe, and on the second and third floors, we run a co-working space mainly for businesses and working people. We also offer seminars and events for business clients and earn income from these operations while running other projects that will lead to environmental, social and economic sustainability.
Our values include "local," "social," and "ethical" aspects, and we place much importance on socially vulnerable people, developing countries and all life, including human beings, trying to collaborate wherever we can. In particular, when we have events such as "Candle Nights" (summer and winter solstice events with candles, celebrating the environment, culture, and community), we buy candleholders from a local non-profit social welfare service facility, creating work opportunities for persons with disabilities. We also contribute donations at our events for Medecins Sans Frontieres (MSF) and local welfare service facilities. We buy toilet paper rolls from Kyodo Gakusha, a social welfare corporation, where people with disabilities and the staff members live and work together. The rolls are made of unbleached 100-percent recycled paper, so they are free from dioxins that are toxic to human health and the Earth's environment.
Our cafe on the first floor of our building uses fair-trade products and eggs produced according to animal welfare standards, and posts notices to inform our customers about our initiatives in the cafe. We provide opportunities for various local people to meet one another in our events with neighborhood associations. In this way, to enhance ties in the local community we will contribute to local resilience in times of emergency as well as in ordinary times in this aging society. We hope it will be an arena where actors in the community get together to support the community, as well as a place where residents and people from outside of the city who use co-working space on the second to third floor can communicate with each other, and in turn, a place that can connect Atami City with Japan and abroad.

Miraisozobu's Six Projects
At Miraisozobu, we have six projects as a social enterprise.
1. Blue Economy Project
In addition to the Blue Carbon Project, which aims to absorb CO2 by cultivating seaweed, the Blue Economy Project is interdisciplinary, ranging from supporting local fisheries by regenerating seaweed beds, to experimenting with removing microplastics with seaweed and generating biomass-gas energy with harvested seaweed, and supporting agriculture with phosphorus recovered from residue. This project is being promoted in cooperation with Dr Gunter Pauli and ZERI Japan, who is promoting blue economy projects on a global scale.
2. Pla-Catch Project (catching plastics)
This project is to install a net at the mouth of the Itogawa River, and to catch, recover and dispose of plastic waste flowing from the river into ocean, in the Atami Port. We plan and implement measures to prevent plastic waste from entering the ocean from land.
3. Project to Sustain and Revitalize the Local Economy in Context of the COVID-19 Pandemic
The intent of this project is to think about how to sustain and revitalize Atami's local economy, which is dependent on tourism, in this era of a pandemic. We discuss issues and implement measures with members of the local chamber of commerce and local business owners.
4. Project to Think about Mobility in an Era of Depopulation and an Aging Society
To tackle the issue of mobility in Atami with its aging population and hilly streets, this project aims to run trials with electric tricycles, and create a sharing or subscription system for tricycles, mobility scooters, or electric powered wheelchairs for seniors.
5. Local Renewable Energy Project
This project is to think, test, and do practical actions to overcome various hurdles in terms of technology, social systems and economy, to shift toward self-sufficient renewable energy.
6. Project to Create A Space to Gather, Develop Potential, and Raise Awareness
By operating the cafe and a space for everyone to get together, the project aims to disseminate information and create opportunities to transform awareness and behavior concerning environmental and social issues, ethical issues including animal welfare, and the whole concept of wellbeing, economy, and society.

Blue Economy Project
Now, let's focus on the "Blue Economy Project." It originated from concerns expressed by local fisherman who were saying that fishing had become more difficult because of the loss of seaweed beds. This project aims to regenerate seaweed beds in order to sustain the local fishing industry and economy, which are experiencing reduced catches of fisheries products such as shellfish and shrimp due to denudation of the sea bottom.
One feature of this project is that we are not just trying to find one solution to fix one problem. While regenerating a marine ocean ecosystem, we would like to develop and implement tangible projects that also connect this effort with measures to address climate change and microplastics pollution, regenerate the local economy, revitalize the local community, and restore links between forests and ocean, and on top of that, "regenerate hope."
This project is based near the marina and Shinsui Park, favorite tourist spots, and we plan to introduce the environmental initiative as a new tourism attraction that can also help revitalize the local economy. If we can provide on-site experience with local elementary and middle school students participating, or a joint-project with local high school students, it will also become a form of environmental education.
Seaweed grows 7-10 ten times faster than terrestrial plants and absorbs much CO2. Measuring growth, we can estimate blue carbon and potential carbon credits. Moreover, research shows that seaweed can absorb microplastics, so it is possible that seaweed beds could help remove microplastics from seawater, albeit not in large quantities.
Harvested seaweed will release CO2 back into the air when it decomposes, so we need to carbonize and sequester it. This project also includes demonstration trials to do just that. Carbonized seaweed could potentially substitute for coal in power plants. If buried directly in soil, charcoal made from seaweed could be used to amend soil or sequester carbon permanently, so the project is also looking into these possibilities.
This project was inspired by being present locally in Atami, and has connections at the national policy level and with global networks. In addition to the members of Miraisozobu, we are starting to collaborate with local fisheries cooperatives and fishermen, local ocean civil engineering companies, the prefecture's fishery experimental station, the Marine Open Innovation Institute, and businesses involved with blue carbon credit calculation. We plan to investigate innovative case studies around the country and consider potential technologies such as seaweed bed restoration and carbonization. This year we hope to identify a sea area for our activities and launch a small survey and trial operations.

For the Future
Finally, I will introduce our vision for the Blue Economy Project in five years.
In five years, we hope to see that through trial and error a suitable approach for seaweed bed regeneration in this area is well-established. In our local marine areas, we hope to be witnessing more and more regeneration of seaweed beds and growth of seaweed, and the technology being transferred to other areas in Japan. The restoration of seaweed beds will be attracting tourists as a new tourism resource. Local elementary and middle school students will be participating in the activities and in fact, we will have started a joint project with high school students.
We hope to have developed low-cost small-scale carbonization equipment, and it is being used to carbonize not only seaweed but also otherwise unused biomass resources such as wood waste and bark, resulting in the removal of CO2 from the atmosphere. As these contributions are being turned into carbon credits, we will be covering a portion of the project costs, and garnering support from urban businesses.
By implementing "glocal" projects--valuing the "local" while connecting to the "global"--as well as implementing hands-on projects supported by research and study, with Miraisozobu we want to help create a "sustainable, happy society and future." By providing business, government and other communities with a practical space to discover social issues and find solutions, we can broadly share our experiences and lessons learned, and promote initiatives elsewhere.
Miraisozobu's activities have only just begun. I hope you will keep an eye on what we are doing to see what "glocal" initiatives can produce. With the insights and knowledge of our readers, together we hope to create a better future.