Japan's Initiatives on Plastics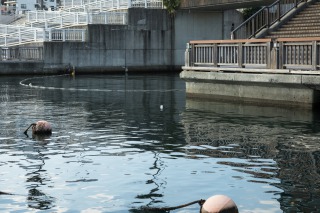 "Pla-Catch Project." in Atami
Marine plastic waste has become an urgent issue as some studies have suggested that there will be more plastic than fish (by weight) in the ocean by 2050 unless things change. In Japan, some initiatives on plastics are underway, including the enactment of new legislation.?
A bill for the Act on Promotion of Resource Circulation for Plastics
On June 4, 2021, Japan's House of Councilors enacted the Act on Promotion of Resource Circulation for Plastics. The new act specifies measures to circulate plastic resources at different phases of plastic-containing products, from the design, manufacturing, selling, and recovery to recycling, in order to promote the reduction, collection, and recycling of plastic waste. This issue of our newsletter introduces specific aspects of those measures.
The national government has set environmentally friendly guidelines on plastic-containing products at the design and manufacturing phases. Plastic products manufactured following the guidelines are certified by the government. The government actively procures such certified products and supports the recycling facilities, encouraging manufacturers to make environmentally friendly products.
At the selling and serving phases, small retail stores are to reduce the provision of single-use plastic products such as spoons and forks. They are also to promote awareness-raising among consumers about single-use plastics.
At the collection and recycling phases, municipalities are encouraged to sort and collect plastic waste and pass it on to recycling businesses for recycling.

Statement of NGO Network for Realizing Reduced Plastic Society
Will this legislation alone be effective to solve the plastic waste issue? The NGO Network for Realizing Reduced Plastic Society, consisting of NGOs and citizen groups that tackle marine plastic waste, welcomed the fact that the act covers the entire lifecycle of plastic-containing products, but stated that the measures under the act are still limited in scope and that although it is crucial to reduce the total amount of plastic, the act does not do so.
For example, the effective utilization rate of plastic waste is 85 percent, but that rate depends heavily on "heat recovery" (incineration), while Japan's actual plastic recycling rate is stuck at around 16 percent. Recycling is essential, but the real challenge is to reduce the total amount of plastic going into circulation. The network's statement basically calls for a prohibition on the manufacturing and use of disposable plastic by 2030, and minimization of heat recovery from plastics.
The Resource Circulation Strategy for Plastics announced by the Japanese government in May 2019 lists "Maximizing the introduction of biomass plastics (to about 2 million tons) by 2030" as one of its goals. The strategy points out that rather than indiscriminately promoting biomass as an environmentally friendly material, it is necessary to verify from different viewpoints that biomass plastics are sustainable and don't cause other problems. For example, will they result in resource competition with food supplies?
The Act on Promotion of Resource Circulation for Plastics is expected to enter into force in April 2022. We all hope that it can be made increasingly effective through a cycle of enforcement and verification.

MARINE Initiative
Besides working on the issue of plastic waste, the Japanese government is also working to support developing countries to solve this problem.
The Ministry of Foreign Affairs announced the launch of the MARINE Initiative on July 13, 2021. It is under the "Osaka Blue Ocean Vision," which aims to reduce additional pollution from marine plastic litter to zero by 2050, as announced at the G20 Osaka Summit in June 2019. "MARINE'' stands for Management of wastes, Recovery of marine litter, Innovation, and Empowerment.
Concrete policy measures are as follows:
- Build necessary capacities and institutions for developing countries to promote waste management and the 3Rs (Reduce, Reuse, Recycle).
- Support the introduction of environmental infrastructure in developing countries, such as waste disposal facilities, and develop relevant human resources, through official development assistance and international organizations.
- Provide training for 10,000 personnel in waste management worldwide by 2025.
- Promote operations by Japanese companies, NGOs, and local governments to facilitate infrastructure exports such as waste-management-related facilities, and innovation and technology introduction for plastic alternatives and recycling.
- Disseminate and share experience, insights and technologies gained from initiatives in Japan, as well as waste management, recovery of marine litter, through relevant international conferences, etc.
Through these measures, the Japanese government aims to support developing countries to build capacity and infrastructure in waste management.

Efforts by industry
Industry also has various initiatives to reduce plastics.
One example is the Clean Ocean Material Alliance (CLOMA), in which various corporations and organizations tackling marine plastic pollution work together across industries, aiming to promote the sustainable use of plastics as well as the development and diffusion of alternative materials for solving the issue. CLOMA was established in November 2018 and consisted of 430 member companies and organizations as of June 29, 2021.
Its major activities include sharing information on marine plastic pollution, containers and packaging materials, 3Rs activities, as well as holding symposiums and other events, and disseminating information overseas on alternative technologies. It also researches what kinds of information and technologies are needed by member companies, and provides matching services. CLOMA has declared it aims for recycling 100% of plastic products such as containers and packaging by 2050, in order to reduce marine plastic waste.

Efforts by local governments
Local governments are also tackling the issue by announcing Zero Plastic Waste Declarations. On the website of e's Inc., where I serve as the CEO, you can see a list of 23 local governments that have made declarations. Here are two examples.
Kameoka City in Kyoto Prefecture is one of the first local governments to make a Zero Plastic Waste Declaration. Known as the first city to enact an ordinance to ban stores from offering plastic shopping bags to customers in Japan, it has been actively working towards its goal for having zero waste from single-use plastics by 2030. To further strengthen its efforts, it signed a comprehensive cooperation agreement on the environment and education with BRITA Japan (Chuo Ward, Tokyo), a household water filtration company, in 2020 and is accelerating its initiatives such as setting up water refill stations and encouraging people to use their own thermoses and bottles. Kameoka's case is a good example of the potential for co-creation between local governments and companies as well as people overseas to tackle the issues.
Kesennuma City, a fisheries-based city in Miyagi Prefecture, is another example. The city declared its actions to reduce marine plastic litter to zero. I supported the city as a member of the drafting committee for the declaration. Together with the declaration, the city has issued a detailed action plan to completely eliminate the flow of plastic into the ocean. Here are some actions in the plan.
- Marine plastic waste collected at sea
The city is responsible for the disposal of marine litter collected by fishermen during fishing operations.
- Marine waste collection stations
The city will establish collection stations so that fishermen and volunteers can drop off marine litter they have collected from the ocean and beaches.
- Used fishing gear
In the past, it was difficult for fishermen to dispose of used and unwanted fishing gear, so the city will create easier ways to dispose of this gear, learning from examples in the agricultural industry.
- Original reusable shopping bag
The city will produce its own reusable shopping bags, to reduce the use of plastic bags.
- Beverages at the city hall meetings
The city will stop offering plastic bottled beverages at city hall meetings and instead offer drinks in recyclable metal cans or "carton cans" (made of cardboard).
The committee also checks on the progress of these actions at regular meetings. It is important to raise awareness on plastic waste, and it is also important to involve governments, companies, and local people to promote initiatives as Kesennuma is doing, and to keep such efforts going.

How should we deal with plastic waste flowing into the ocean? Initiatives at For Future Company
Above, we introduced initiatives to reduce plastic waste and prevent it from flowing into the ocean. So how should we deal with plastic waste that has actually made its way to the ocean? At For Future Company (Mirai-Sozo-Bu in Japanese) that I established with friends in Atami, Shizuoka Prefecture, we are working to reduce marine plastic pollution.
We have three pillars of our activities. First, we join nationwide beach clean-up activities in Japan. In Atami, on the second Sunday every month, a local beach club picks up litter on the beach. We realized that almost all of the litter consisted of plastic. By removing the plastic litter that typhoons and storms have washed up on the shore, we can prevent it from returning to the sea.
The second is the "Pla-Catch Project." We try to catch plastic litter in net across the mouth of the Itogawa River in Atami City. The net is carefully set so that it does not prevent fish from going upstream. We started the project in July 2020 and found that not much plastic litter actually flows from the river to the ocean. However, citizens and sightseers often wander around this location, so we continue this project as part of awareness-raising and environmental education.
The third pillar is seaweed bed restoration. We learned from overseas projects using seaweed to absorb microplastics, and decided to try restoring depleted seaweed and seagrass beds ourselves. This is also a blue carbon project. After seaweed grows and absorbs microplastics, we plan to collect and carbonize it, and use the product as charcoal or as alternatives to fossil fuels.
Plastic pollution is an immediate problem for everyone. Addressing this problem and not letting the ocean environment deteriorate further is a significant step toward building a sustainable society. We need to work on this problem in society as a whole and worldwide, through partnerships with local governments, businesses, NGOs, and overseas partners. We will do what we can, and share news of these initiatives and efforts in Japan with people around the world.