Solutions Here! Ama Town's Innovative Ideas are Attracting People to This Island Community in Japan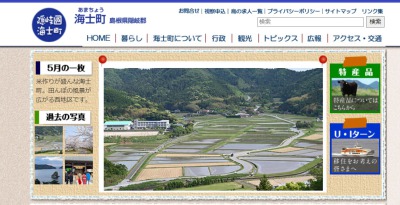 Ama Town website
http://www.town.ama.shimane.jp/
Ama Town in Shimane Prefecture is renowned for its many unique and innovative initiatives as a leader in community revitalization in Japan. In this article we introduce the latest activities going on here, and hope other communities will discover many hints and inspiration.
---
Many of our newsletter readers are involved in activities in rural communities. As new initiatives emerge, they are often faced with common problems. It can be difficult to get community support from neighbors. Or it can be difficult to attract people if you can't offer year round employment. The island community of Ama Town in Shimane Prefecture in Japan may have some good ideas to share.
Ama is a remote island town of about 2,250 residents located approximately 60 kilometers offshore from the Shimane Peninsula, about three hours by ferry from the mainland. Years ago it was once on the verge of disappearing as a distinct town as part of municipal amalgamation talks. The Japanese government had been promoting municipal mergers since 1999, and until 2005 was providing generous financial support to municipalities that amalgamated. At the time, Ama Town also considered amalgamation with surrounding islands.
Each island, however, has its own unique culture. The mayor at the time strongly believed that it would not be good for islands with different cultures to merge, and called on his own community to preserve and protect the island and build its own independent future. After extensive discussions with residents, in the end, Ama Town decided not to merge with other municipalities.
But if Ama did not merge, that would mean it would not receive financial support from the central government. This would further strain municipal finances, which were already tight. Instead, Ama Town launched upon various amazing initiatives under a vision of "Independence, Challenge, and Interaction." As a result it is being seen as a "top runner" in regional revitalization.
Ama's efforts to date have been frequently covered in the Japan for Sustainability (JFS) Newsletter, the predecessor to this newsletter, so please take a look if you are interested.
Pursuing Local Economy and Well-Being in Ama Town, Shimane Prefecture
https://www.japanfs.org/en/news/archives/news_id034869.html
"Nai-Mono-Wa-Nai": Ama Town's Concept of Sufficiency and Message to the World
https://www.japanfs.org/en/news/archives/news_id036106.html
In this June issue of the ISHES Newsletter, we would like to share with you selected recent initiatives of Ama Town.

Wagatoko bus tours
In Ama Town, both the private sector and the local governments have launched various initiatives. This can lead to some confusion among residents as it can be hard to keep track of what is going on even in such a small town. Long-time residents could feel that young people are starting unfamiliar activities or that new arrivals don't appreciate the traditional ways.
Then in 2021, the town hall and a public-private venture known as AMA Holdings Co., Ltd. took the initiative to launch a bus tour to introduce the townspeople to what is going on, dubbed wagatoko (meaning "my hometown" in Japanese). Tour participants visit places to see various initiatives taking place in the town and learn the details and concepts of each initiative, which helps not only reduce the sense of distrust but also increase support for the initiatives. The bus tours are very popular especially among seniors, and are fully booked up with seniors' social clubs in each local area.
We can imagine how they further promote understanding of the initiatives among the townspeople, as seniors can see what local youth and new residents are working on, and then tell their families and friends about them.

Camp-based hiring program
The next example is the use of camping as part of recruitment processes. Recruitment typically includes a written test and an interview. In a brief interview, however, it is difficult to discover an applicant's true character and responses tend to be rather superficial. Applicants, meanwhile, can become too nervous to express themselves well.
This is why the local town hall started its camp-based recruiting program in 2021. At the first stage, applicants go camping with some town hall officials, and then they go forward to interviews at the second stage. In fiscal 2021, the town hall hired 10 new public servants through this recruiting program.
It was snowy, freezing weather when the camp recruiting program was conducted in February. Under demanding conditions, applicants set up camp together with the town officials, started the fire, cooked rice, and talked together. In a camp situation, it is difficult to hide your true nature. Recruiters can see the applicant's character in ways that would not be revealed in a typical interview. For example, does the applicant display leadership ability? This is a recruiting method in which both recruiters and applicants can get to know each other by revealing their true colors, and it may be applicable to other organizations. Working as a team even before they are in a work environment, they can smoothly start working together in the workplace after being hired.

Multi-worker initiative
With its rich natural environment, the major industries of Ama Town are mostly based on the natural resources, such as agriculture and fishery. Nature of course has its seasons, so the workloads also vary over time. Depending on the function of one's job, some seasons are busy, others are less so. This leads to a situation where it is difficult to keep people employed year-round in any one industry. Without the prospect of steady employment, people who may wish to move to Ama may choose to stay away.
Against this backdrop, Ama started the "multi-worker" initiative in 2012. This system combines various jobs that have different peak activity periods. The place of work can change from time to time. For example, a person may make a living by fishing for flying squid in winter and working in the food-processing industry from spring to summer. Or help out with guest accommodations during the peak tourism season. By combining various jobs, people can secure solid employment in Ama Town throughout the year.
The central government also established a System on Specific Community Development Business Cooperative, which entered into effect in June 2020. It seems to be following the lead of the multi-worker initiative in Ama. This national system offers financial and institutional support for business cooperatives that hire "multi-workers" engaged in different types of work that change with the seasons or over time.
Responding to the launch of the national system, Ama established "Amu Work," a multiple industry business cooperative in the town, in November 2020, and has been offering support to multi-workers and their workplaces under the new system.

Ama Town Future Co-Creation Fund
Lastly, we would like to introduce an initiative to support businesses using the tax system. Japan has a program in which Japanese citizens living anywhere can donate money to local governments that they want to support. This Furusato Nozei program (which literally means hometown tax payment) is gaining in popularity because many local governments send donors local specialty products in return for their donation.
In FY2021, Ama Town began to allocate about 25 percent of the town's tax revenue of the program to support projects that are essential for the future of an appealing and sustainable island. The Ama Town Future Investment Committee supports the effort. Junko Edahiro, the president of the Institute for Studies in Happiness, Economy and Society (ISHES), serves as a director of the committee.
If people have projects that need support, they can apply to the Ama Town Future Investment Committee. It has a screening board that includes external examiners to decide which projects to invest in. Money donated through Furusato Nozei flows to projects that pass this screening process. Projects approved for investment are reviewed, and activity reports are published online to ensure transparency.
Two projects selected in FY2021 were the conservation of sea cucumbers, which function to purify seawater, and the promotion of marine boat businesses, including fishing boats, to raise awareness about the sea around Ama. The funding is helping these projects move forward.

Toward the future
Future leaders are being nurtured in Ama Town through all these different initiatives. The town still has a traditional coming of age ceremony. Youths at the age of 14 talk about their future dreams. One girl said, "My future dream is to be like the adults in Ama Town today."
Most young people leave the island after graduating from junior high or high school because there is only one high school and no university on the island. The typical pattern after graduation is to get a job in the big city, such as Osaka and Tokyo, and start a family there. In the past, this trend caused population loss not only in Ama Town but also in many rural areas across Japan.
In Ama Town, however, something special is happening. Highly motivated young people who grew up watching the adults on the island have left the island, gained experience away from home, come back, and begun working on their own dreams back on the island. Adults are also motivated to see the young people playing such an active role. As everyone is discovering more purpose in life and continues to take on challenges, there is a cycle of attraction. Ama Town is becoming more like a magnet.
We hope the unique and pioneering initiatives of Ama Town will inspire your own efforts too.