February 27, 2012

"Growth in Transition"
The book "Growth in Transition," to which ISHES' president Junko Edahiro contributed a chapter, was published on December 9, 2011.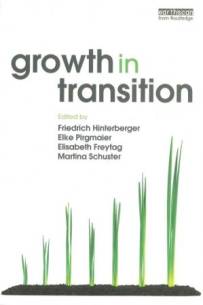 "Growth in Transition"
(Edited by Friedrich Hinterberger, Elke Pirgmaier, Elisabeth Freytag, Martina Schuster/Earthscan/2011)
http://www.amazon.co.jp/dp/1849713960/ref=as_li_tf_til?tag=junkoedahiro-22
The book was edited by researchers of Sustainable Europe Research Institute (SERI) and others, and includes a wide range of articles on sustainable economy by world-renowned researchers and experts.
Edahiro contributed an article entitled "Good-bye ownership, materialism and monetization in lifestyles: a new era dawning in Japan," analyzing what she calls the "3-De Generation" (referring to de-ownership, de-materialization, de-monetization).
Other contributors include Herman Daly (Maryland University, Former Senior Economist for the World Bank), Tim Jackson (University of Surrey), and Tomoo Machiba (OECD). The authors discuss economic growth and society from a variety of viewpoints such as policy, civil society, and the economy.