c/o e's Inc. PF Asakusabashi Bldg., 5th Floor
1-19-10 Asakusabashi, Taito-ku, Tokyo 111-0053 JAPAN
Tel: +81-3-5846-9841
Fax:+81-3-5846-9665
E-mail: inquiry_en@ishes.org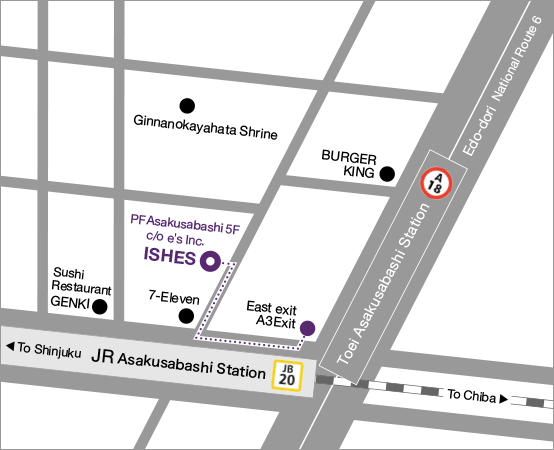 The nearest station is ASAKUSABASHI Station on the JR Local Chuo/Sobu Line (take the yellow train; if you take the orange train, you will wind up at Tokyo Station instead; you can change to the yellow one at either Shinjuku or Ochanomizu) and Toei Metro Asakusa Line.
JR Chuo Line : japan-guide.com Asakusabashi | TOEI TRANSPORTATION
Directions from the station:
About a 1 minute walk from ASAKUSABASHI Station
From the East Exit of the JR part, or A3 Exit of the Toei Asakusa Line part of Asakusabashi Station, turn right at the corner, walk along with the elevated railroad just on your left side.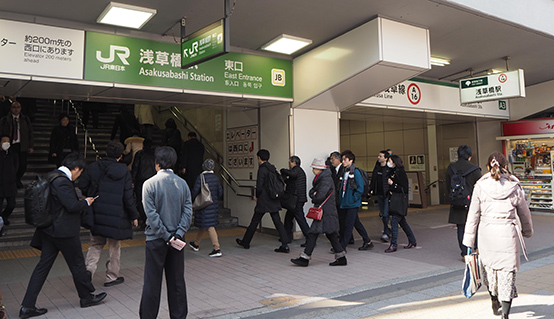 Go straight along the railroad, and you'll see a Seven-Eleven convenience store at the corner.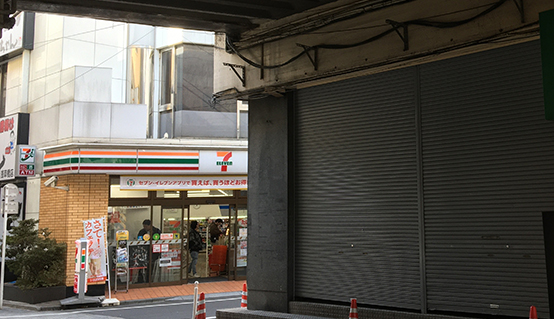 Turn right at the corner and then the third building from Seven-Eleven convenience store is PF Asakusabashi Building.
On the first floor of the building, there is a restaurant, BEADS DINER.
The entrance to the building is on the left side of the restaurant.
Enter the building and take the elevator up to the fifth floor.