Junko :

When we met last time, you said that you were creating a film. Maybe you can start with the story behind the film making?
Helena:

Well, the story behind the film making is that since I went to Ladakh 35 years ago, I can see that the impact of economic development and economic growth was to unnecessarily create unemployment, which never before existed in Ladakh, and serious problems of pollution. Maybe most importantly, because of the unemployment, it led to intense competition between people, which hadn't existed before, and which led to friction between local people.
When Ladakh was first opened to the outside world, media images that romanticize an urban consumer culture - which is fundamentally Western - were introduced. I learned this because I spoke the language very fluently, and I could see that what that does is to make young people reject themselves, reject everything from their food and their clothing, to their language, the color of their skin and their eyes. It was very clear in Ladakh, and I've seen it worldwide. This was a terrible thing to witness, especially that this dominant global consumer culture was creating self rejection, even self hatred. That, of course, also reinforces violence and anger. Because if we don't respect ourselves, we don't respect others. When I'd seen some of this in Ladakh, I wrote the book, "Ancient Futures."
Junko :

I see.
Helena:

We made a film about that a few years later. Between the book and the film, they have been translated into 50 languages. People again and again say to us, "The story of Ladakh is our story, too." They say, "Basically the same thing is happening in our culture," "We used to have a steadier, more secure economy and work. We used to have more self respect. We used to have more peace. But because of economic development, we now have very similar problems." So what I wanted to show in the film is that this is a global phenomenon.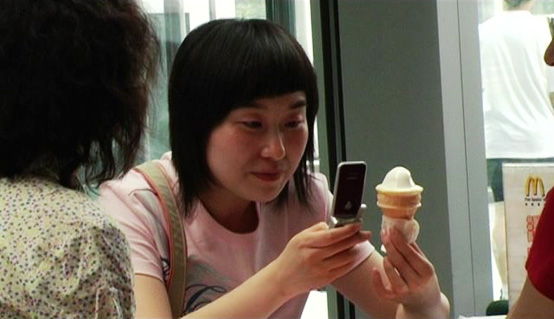 From the documentary "The Economics of Happiness"
© 2011 "The Economics of Happiness"

Junko :

Globalization of economy was supposed to deliver happiness to many people. But it didn't, right?
Helena:

Yes. Globalization of the economy has been presented as a way of bringing nations together. So it has been thought that by increasing communication, increasing trade, across the world, we will become more inter-dependent, more connected, and this will lead to peace. But in actual fact, what happened when we increased global trade is that the governments all around the world have been subsidizing or supporting it through infrastructural development. In many, many ways, our taxes have been used to help the multinationals. As they become bigger and bigger, and more powerful, what happened instead is an enormous and incredible waste of resources. In order to generate GDP through trade, we are ending up actually importing and exporting the same products across the world.
But also, a few businesses merging bigger and bigger and more global is linked to unemployment. If we had a multitude of smaller businesses, we would have more work and the work that wasn't so stressful. So there is this path of concentrating and centralizing our economic activities into fewer and fewer businesses and banks, versus having many smaller and medium sized ones. That I think is a key issue.
Junko :

I think the government or a state is responsible for people's happiness. So why do they give so much backing to multinationals and globalization?
Helena:

I think it is pretty clear that they have a mantra or a myth that increasing GDP through global trade - which means helping global traders get bigger and bigger - is necessary to employ people, is necessary to keep the economy going.

Junko :

When we met last time, we discussed these globalization and non-GDP indicators and so forth. Since then, in maybe two or three years' time, have you seen any positive changes in the world?
Helena:

I definitely see that there is waking up and discussion, which is very hopeful. Of course, after the financial crisis, there were a lot of people who were rethinking. But at the moment, governments are clearly not doing what they need to do. There is a great need for more discussion in the media of these issues, so that there is more of a people's movement. I believe that those people who are concerned about protecting the environment, can link their concern with those concerned about poverty and unemployment.
Junko :

Right. In January 2011, I established the Institute for Studies in Happiness, Economy, and Society (ISHES). We, environmentalists, have been working for sustainability but we have to tackle economy or society, as well as their structures. Without tackling these issues, we can't have a sustainable future. This is why I established this institute.

Junko :

You might know the "dilemma of economic growth," which says that "economic growth is unsustainable, but de-growth is unstable." What do you think about this theory, that under the current structure, economic growth is necessary to keep the economy going and producing employment, providing pensions to elderly and so forth?
Helena:

I definitely see differently from most economists. That's partly because based on working for such a long time in a less industrialized part of the world as Ladakh and Bhutan, and in a most industrialized part, what's very clear to me is that any rethinking of economy has got to happen with thorough understanding of farming and general resource extractions. In other words, what's required is great ecological literacy. If we start from that point of view, from a really thorough understanding that our wealth, every last thing we use, comes from nature, then we recognize that in nature diversity is a necessity of life.
But the fact of the need of ecological literacy, a respect for diversity, if we look at that in honest way, becomes very apparent in smaller scale units; employing more people, to care for every bit of the land, fishing and forestry, selecting and harvesting instead of clear-cutting and drift nets, which is large-scale.
Industrial systems have not just developed a large scale method on their own. Our governments are supporting them to get even bigger, and even more massively destructive. I think that we should recognize the need for more human labor in almost all the areas where we are dealing with nature and with human beings, in teaching, in medicine, in all the caring. We need more people for this, rather than the fewer.
Currently, efficient technologies for global warming are being developed, but this doesn't address these issues at all. In fact, I am worried that it is reinforcing a very problematic direction, which structurally throws people away. It is a type of jobless growth through technology and energy. The technology and energy may be a little more environmentally friendly, but it isn't people friendly. It needs to be friendly for the restoration of diversity, to a really healthy thriving ecosystem.
One of the reasons why we must do this is because if we work with nature this way, we can produce vastly more per unit of land and water. Small scale agriculture produces more food.
Junko :

Many don't think that way.
Helena:

No. I guess this is a belief that a larger scale is necessary to feed lots of people. But we need to understand that if we are using just as much land as a big farm, we are dividing it into many small ones, and more people are working there, instead of stupid blind machinery, which would typically harvest all the apples -- even a half of them would not have been picked if human beings were picking them, they would wait until they are fully ripe.
Human intelligence of care can vastly improve productivity. When it is done on a smaller scale, and with diversity, the work is enjoyable. When we think that machinery is helpful, that's when we go for slavery where people are standing and people are treated like a machine. But if we look at more independent, family-owned farms with diversity and with animals, the work is actually very very pleasurable. This is the fundamental direction we need to rethink.
Junko :

I think we have to recreate or restructure the economy or economics in the first place, but at the same time, we have to change the social logic, so to speak. For example, many people believe that machinery and technologies are superior to us. So we have to regain our ownership. We have to regain trust in ourselves.
Helena:

Yes, absolutely.