Lester :

Japan could back out every nuclear power plant in the country by shifting to geothermal if it decided that it wanted to.
Junko :

I would agree with that.
Lester :

We see Iceland, a small country, now greatly expanding its use of geothermal to generate electricity. I think of Iceland, because like Japan, it is geothermally very rich. Iceland now wants to lay an undersea cable to Scotland to export geothermally-generated electricity to Scotland and thus to the rest of Europe.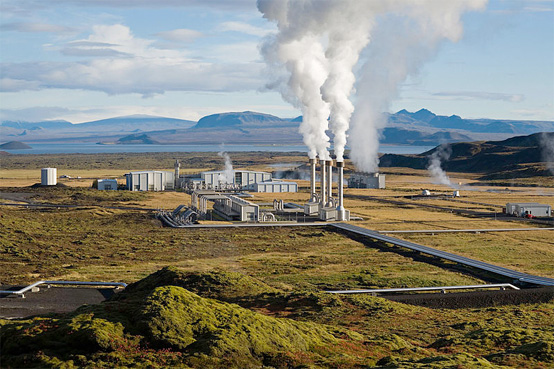 Nesjavellir Geothermal Power Station near Reykjavik, Iceland
Junko :

Really. I think Japan is ranked number three in terms of the potential of geothermal energy. But we have tapped only a part of it.
And not only geothermal but also wind power and other renewable energies have not been really tapped yet, because of political issues connected with the energy situation in Japan.
Lester :

I think it is changing.
Junko :

Yes. It should change and it is changing. There is a harsh battle being waged at the government and at the Ministry of the Economy, Trade, and Industry about the next energy regime. I hope that we will be changing for the better. Things must change.

Junko :

A shift toward renewable energy will probably increase employment, compared with nuclear.
Lester :

Yes, wind and solar are much more labor-intensive than oil or coal for example. If you drive by an oil refinery, you will see lots of tanks and pipes and things. No people. But if you look at a wind farm, there are always people working to maintain it. The installation of wind turbines is labor intensive, doesn't take much capital, and can be done very quickly. The greatest thing about wind farms is that from start to finish, you can build a large wind farm in one year, in twelve months, actually less than that, but easily in one year, whereas a nuclear power plant takes years to build, and uses huge amounts of capital.
In trying to assess a new technology, particularly a new energy technology, I look to see what Wall Street is doing, because they invest a lot in doing research. Wall Street has not invested in a nuclear power plant for more than 30 years.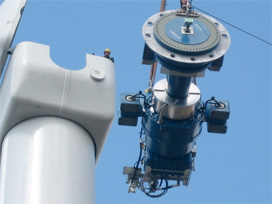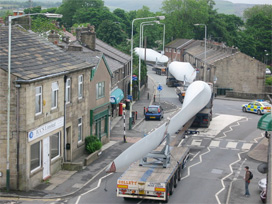 (left) Typical components of a wind turbine being lifted into position
(right) Turbine blade convoy passing through a town
Some rights reserved by Paul Anderson
Junko :

Really?
Lester :

Yes. Nor will they. The reason they don't is because they are not economic, whereas they have been investing billions in wind, for example, and solar. And I think we have 141 geothermal power plants under development in the United States.
Junko :

That's exciting.
Lester :

So things are beginning to happen.
Junko :

I think that the U.S., Japanese, and many other governments are facing huge issues in society related to unemployment. They are looking at how to increase employment. Many European and other nations are focusing on renewables, but why isn't the Japanese government? For politicians, investing in and fostering renewables should be good not only for environmental reasons, but also for employment. Employment leads to happiness. Conversely, being unemployed is not a happy situation.
Lester :

The world desperately needs more jobs. And a way to get more jobs is to restructure the energy economy, moving away from fossil fuels, which are very capital intensive, not labor intensive at all, whereas, solar, and wind and geothermal are very labor intensive. They create a lot of jobs, both in their development and in maintaining them as well.

Junko :

So in that sense, we have to have new a measurement or yardstick to measure progress, something other than GDP. I like your idea of the park-to-parking-lot ratio. That is one of the criteria or standards you created, right?
Lester :

Right.
Junko :

This is also related to the happiness factor. We need more of these new yardsticks.
Lester :

The one you just mentioned came to me probably a dozen years ago. I was in Tel Aviv in Israel. Tel Aviv is a new, quite-large city. I heard that about half of all Israelis are living in Tel Aviv.
The thing that amazed me as I was driving from my hotel to a conference center to address a group of businessmen was that everywhere I looked there were cars. I was amazed. I hadn't been to Tel Aviv before. Every place where you could possibly park a car, there were cars. And I got to thinking that one of the best indicators of the livability of a city, of the feeling that you get in the city, is the ratio of parks to parking lots.
If you have mostly parks, it is a rather pleasant place to be. If you have mostly parking lots, it is not so nice. And the bottom line from that is we need to design cities for people, not for cars. For the last half century, we have been designing cities all over the world for cars. And look what a mess we've got: air pollution, traffic congestion, frustration. So that one indicator for me at least helped me to see the need for fundamentally changing how we think about designing cities.
Junko :

I think we have to have more and more of these new measurements. If we use only GDP or companies' stock prices, people are just focusing on these moving numbers, without knowing what they really mean.
Lester :

Right.
Junko :

So we have to create and present real indicators for well-being and happiness.
Lester :

Right. Another example of designing cities for cars instead of for people is that cities are no longer pedestrian-friendly. They are not bicycle-friendly, even though these are ways to get exercise. Now we have an obesity problem. This along with traffic congestion and air pollution is another manifestation of urban design problems.
But if we have a transport system that is largely driven and powered by electricity, and if we replace cars with very good transit and bicycle-friendly systems, imagine what a city will be like. It will be quiet. Just the occasional whirr of electric motors driving a car. No air pollution to speak of. We can't even imagine a quiet city without air pollution today. That is so far beyond our experience. But that is the kind of city we need to be building for the future.
Junko :

Right.