Junko :

You said that if we stay with the wrong view, the right view should be kind of coexistence with nature, learning from nature. Is that true?
Sulak :

I think that will be the next step. The first step is, we should know who we are. Nobody really knows who we are.
I think we should really learn how to be normal, how to be natural. To be normal and natural means that how we can teach ourselves to be less violent.
That's why in the Buddhist concept, Buddha gave us the five precepts to train. The first one you train not to be violent against life. The second one is warning us against stealing. The third one is sexual misconduct. The forth one is not to lie. The fifth principle is that we should be mindful, not be addicted to drugs, alcohol - not only drugs and alcohol, anything that makes you mindless, but also any ideologies and religion including Buddhism, if it doesn't make you mindful. If you say "Buddhism is the best, the only way," I think all this is wrong. I think the first prerequisite to learn to be mindful and less violent.
Junko :

You said that the modern civilization of the West started with the wrong view. Before starting the modern civilization of the West, did the Western people have the right view?
Sulak :

Yes. In the West, you have many many streams of cultures and civilizations. But the mainstream killed them all. Christianity teaches love, truth, and non-violence. Christ himself died for people. You have people like St. Francis of Assisi, who gave up his rich family to become a simple man.
The mainstream in the West is that "we have the truth." The churches have the truth. Now the church is gone. God is dead. But those who replaced the church, the scientists, behave just like theologians.
Junko :

(laughing)
Sulak :

Such as, "We, scientists, have all the answers. Only Western medicine is right. The other is wrong." But you see, the good thing is that in the West now, young people also challenge mainstream Western civilization.
Junko :

Very interesting.
Sulak :

We sometimes obey the West too much. It is about time we fall away. We need some alternative. We need to go right back to the right view - learn how to be less selfish, how to be more generous, how to transform greed into generosity, how to transform hatred into loving kindness, and how to transform illusion into wisdom and understanding.

Junko :

In Western world, there have been repeated patterns. One is fear. That is often the key, for example, for scientists or for religion or democracy or whatever. What is the driving force of creating such patterns? Or what is the structure or cause of these same patterns?
Sulak :

If you can create fear, people can be under your control. The Christian church created a guilt complex, the belief that you are not good. You have original sin. "Everything is wrong. The church will help you, but the church can also kill you." It is really silly, but people were captured by that. Now the scientists are replacing the church. If you are wrong physically, mentally, you have to go to doctors, you have to go to psychiatrists. People believe they know all the answers, which is not true, either.
Junko :

In this repeated pattern, first of all, somebody creates fear. And the fear creates dependence. So you have to depend on the church and you have to depend on the medicine or whatever. So, for example, in the consumerism society, fear is created to compare yourself with others. So this drives the consumption. Isn't that right?
Sulak :

Precisely.
Junko :

People are addicted to consumption because of the fear. So how to depart from that stage? You said that everybody has good seeds. But if you look at many people in Japan or in other countries, only few people can believe in themselves. Many people feel that they are not worth anything. I mean they feel worthless. This is the majority's feeling. So where to start? How to change this?
Sulak :

The change will take place if you reconstitute your consciousness. Our consciousness has been conditioned by our own educational system, mainstream culture, and mass media. That is why people are now addicted to computers, to televisions, and so on, you see. So it is difficult to change the habit. But particularly the young in a society like Japan, when they feel that they are hopeless, they fear they may not be employed, they fear that they are not secure, many of them commit suicide.
We can help them, by sending them abroad. When they compare themselves with the young elsewhere, they will find they are in a very privileged position. If they can be exported to see those things, people who are much less privileged, learn from them, I think this can change things.
Likewise, we can go to the trees and to the rivers, and learn from the trees, the rivers, the birds, and from the bees. Our perception will be much wider and much deeper. We ourselves are not only physical - we ourselves could also be transcendent Tremendous. You also have that in original Shintoism. You also have that in Buddhism.
I think if we learn people suffer, we can learn how we can be friends. Even the March 11 earthquake and the nuclear disaster in this country this year teach us that the crisis is also an opportunity to change. But nothing will be improved if you want business as usual.
Junko :

You're right.
Sulak :

Japanese should use its own wisdom. Do something different from the Russian who experienced Chernobyl and Indians who had the Bhopal disaster. That would be wonderful.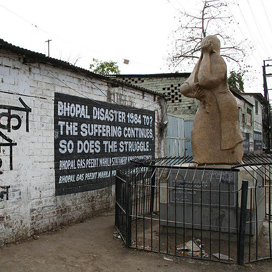 Bhopal memorial to the victims of the 1984 toxic gas tragedy.
Some rights reserved by Simone.lippi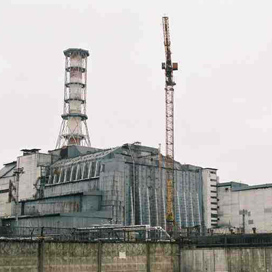 Chernobyl power plant with the sarcophagus containment structure.

Junko :

I think one of the differences between the East and the West, so to speak, is our sense of interconnectedness. To Japanese people or to oriental people, it is very natural that we are part of nature. We are part of the universe. So we are not independent so to speak.
Sulak :

That's right.
Junko :

We are dependent on each other. We are interconnected. But in the Western civilization, they don't have that kind of idea. They have the idea of stewardship. So they are assigned by God to take care of other creatures or the globe. So there is a hierarchy. God is at the top, and then next come human beings and other creatures.
But to us, we don't have that kind of hierarchal situation. We are equal to and with other creatures and trees, but we lost this sense of being connected.
Sulak :

That's right. Well in the West, they also have that. As I mentioned, St. Francis of Assisi is one. Such people are mystic and can relate to others. But I think that is not the mainstream. Our original teaching, culture is interconnected, also has been distorted. Even Buddhism in Japan is really hierarchal.
Junko :

(laughing)
Sulak :

You see. Not really hierarchical. Rather, male chauvinism. I think we have to change that. Men and women must be equal, must complement each other. In some way, men may be better, in some way women must be better. To be honest with you, if we regard women better, they have to be much better than men better, because women have yin and yang. Women have compassion and have knowledge. Knowledge sometimes could be truthful. Compassion is always wonderful. So I think even men will learn from the compassion of women, make them more like women. That is tremendous. We need to honor women. We must learn from women.