--=----=----=----=----=----=----=----=----=----=----=----=----=----

ISHES Newsletter #11
June 25, 2019

See what's new on our web site: https://www.ishes.org/en/
E-mail: inquiry_en@ishes.org
Copyright (c) 2019

Institute for Studies in Happiness, Economy and Society, Japan

--=----=----=----=----=----=----=----=----=----=----=----=----=---

Dear Readers,

We are happy to release our 11th issue of the ISHES Newsletter! We hope you enjoy reading our articles from Japan related to happiness, economy and society.

In this June 2019 issue, you will find the following articles:

- Getting More from Less: Lessons from the Recovery of Oyster Cultivation in Minamisanriku (Tohoku Region)

Oyster cultivation has been done for decades in Togura, Minamisanriku Town in northern Miyagi Prefecture, which was devastated by the Tohoku earthquake and tsunami disaster in March 2011. The oyster farms were completely destroyed, but their recovery has been dramatic. Read on to discover how oyster industry revived itself.

- New articles from the Research Institute for Creating New Paradigms based on Eastern and Western Wisdom

This time we provide an article from the column by Yoshifumi Taguchi, entitled "The Japanese Way of Life: Beautiful Flow -- Taoist Thought and Japan's Heart," which has been uploaded on the web.

- Recommended articles from the JFS Newsletter on sustainability issues in Japan

Biomimicry is all about learning sustainable technologies from nature and living things. Over the years, the topic of biomimicry has always attracted much attention on the Japan for Sustainability website. In the current issue we provide a summary of the top JFS articles on that topic.

********************************************************
Getting More from Less: Lessons from the Recovery of Oyster Cultivation in Minamisanriku (Tohoku Region)
********************************************************

By Junko Edahiro, President of the Institute for Studies in Happiness, Economy and Society (ISHES)

Introduction

Minamisanriku Town in northern Miyagi Prefecture has a deeply indented ria coastline with beautiful scenery. Fisheries have been among of its main industries since ancient times. In the teeming waters of Shizugawa Bay, oysters have been cultivated since the late 1960s. In particular, the Togura district, featuring a number of small beaches lining inlets wedged among mountains, constitutes the heartland of this fisheries community.

The massive earthquake that struck on March 11, 2011 triggered a huge tsunami that hit both Minamisanriku Town and the Shizugawa River. More than 600 inhabitants lost their lives, and more than 200 people are still missing. About 80 percent of the houses and other buildings in Togura were destroyed, and almost all of its oyster cultivation rafts, processing facilities and fishing boats were swept away. But the survivors decided to team up and work together to restart oyster cultivation, using Japan's subsidy system.

How did they restore oyster cultivation as one of the fisheries' mainstays? We interviewed Kiyohiro Goto, who heads the town's Oyster Production Subcommittee, to find out.

Oyster Cultivation, Vicious Cycle

Prior to the earthquake, the bays all the way out to the islands were completely filled with row upon row of rafts for cultivating oysters. Why was this being done at such high density?

Oyster production was relatively stable, so people wanted to increase production, and added more rafts, but that slowed oyster growth. So while the oysters used to be ready to harvest in two years, they started taking three years. As a result, the amount deliverable to market was insufficient, so even more rafts were added. This rapidly led to a vicious cycle. Oyster farmers started talking about increasing the quality of the harvest by reducing the number of rafts, since the amount of production could not be increased any further, but these talks always stalled when it came to the question of who was going to reduce their number and by how much.

Then the disaster struck. All of the rafts were swept away. Oyster farms that had been built up over decades were all lost. There were no fishing boats left either. Many of the cooperative's members had lost their homes. How could they rebuild? It looked impossible.

However, the sea floor was in better condition than we had anticipated, making it possible to revive oyster cultivation. I was asked at that time to chair a fisheries cooperative subcommittee and I accepted, hoping to help with the reconstruction. About 60 of us got together and held lots of discussions. It was proposed that we should look 20 or 30 years into the future, reduce the amount of cultivation and instead create a system that would allow oysters to be harvested in just one year. We settled on a system with everyone participating in its management.

We didn't really know what would happen with a reduced scale of activities. Previously, there had been big disparities, with some members having as many as 50 rafts, while others had as few as seven or eight. We had to ask them to accept a reduction, and it was here that our efforts to reduce the number of rafts got started.

We talked day after day about how we should proceed. We held about a hundred meetings a year to deal with various conflicts, such as what to do if income declined, or if members could live with less income if some put out 50 rafts.

Reducing Cultivation Rafts by Two Thirds

During the meetings, someone said that an interval of about 40 meters between rafts would be needed. That led us to look back in time at the spacing in use when the oysters could be harvested after one year. If the interval was increased to 40 meters, it would reduce the number of rafts to less than a third of what was in use prior to the tsunami and allow slightly less than eight rafts per person. This led some to worry, asking, "Couldn't we make the interval just a little smaller?" We decided to try out an interval of 40 meters for one year, and if that was no good, to discuss the interval again.

Prior to the tsunami, it took at least 16 months before the oysters were ready to harvest, but one day, four months after spawning, the person in charge at World Wildlife Fund Japan (WWF Japan) which had been providing us assistance said, "Let's see how large the spat have grown." I was uneasy, thinking how I'd feel if they hadn't grown very much, but while the oysters had only been reaching 15 grams after three years in the past, these had reached 20 grams in four months. That was astounding.

A year later, they were 56 grams. In one year they'd developed large bodies, and we were able to produce fine-tasting oysters. The oysters were also spread out evenly from one edge of the rafts to the other. The fisheries cooperative adjacent to us in the same bay was setting intervals of about 30 meters, but they have to wait two years before harvesting. I can say that we only learned after the fact that 40 meters was key.

Production volumes per management unit have doubled, and they can provide oysters to market in spring too, when the price is up by 50%. Costs did not fall by two-thirds, but they did fall by 40 percent, and that had helped boost earnings. The biggest benefit has been the reduction in working hours. In the past we had to work 10-hour days during shucking operations, seven days a week, but now we work six hours a day and take Sundays off.

There have been other benefits from increasing the interval. The wind blows the rafts around, but since there is plenty of space now, boats can navigate between them safely even in the wind. In the past, if one of the rafts was damaged in a typhoon or storm, it would break loose and hit the next raft, causing the damage to spread in a domino effect. But now there is plenty of space, so the damage doesn't spread. Storms always hit in the spring, but by then 70 to 80 percent of the production is finished, so there is less damage.

Most importantly, the quality of our oysters has improved. In the past, even local businesses avoided our oysters, saying they had poor quality, but now they are selling them in earnest, and I note how good this has been for revitalizing our local economy. With so many positives, no one these days is proposing a reduction from to 20 meters from 40.




Using a Point System to Reassign Cultivation Plots

We decided on an average of eight and a maximum of 10 rafts per person. We had everyone give up their inherited rights to have a certain number of rafts. Deciding how to distribute the reduced total number equitably was a very difficult challenge.

What we came up with was a point system. Households with successors received 60 points. Two-person households got 46 points, and single-person households got 40. A raft for oysters required four points, for "wakame" seaweed two points, and so on, with different numbers of points required to cultivate different items. A person awarded 40 points could use any combination of rafts within the limit of those points, for example, 10 oyster rafts.

There was considerable opposition even to this point system. It would be particularly disappointing for anyone who had to settle for fewer rafts than before, but the reality is that the fishery area was finite. We decided to give it a try, somehow got everyone's agreement for that, and began implementing it.

First ASC Certification in Japan

With support from WWF Japan and the town of Minamisanriku, in March 2016, Togura's oyster farm became the first in Japan to gain Aquaculture Stewardship Council (ASC) certification. It was judged on three points: (1) whether it was using the natural environment and resources in a sustainable manner, (2) whether it was reducing the burden on the environment from the aquaculture area, and (3) whether it was being managed with consideration of the working environment and local community.

Nearly all of the cooperative members were opposed to seeking certification. It cost money and its benefits were unclear, they said. Nonetheless, despite difficulties, we managed somehow to obtain it and found that whereas in the past the price of our remaining unsold oysters would be bargained down, now they all sold out at the normal price. The reason is that for the same price, consumers prefer certified oysters.

Two years after we got the certification, demand for ASC certification is growing. Three more fishery cooperatives in Miyagi Prefecture have obtained certification, so now more than half of the fisheries in the prefecture are certified. Sales have been doing well and expanding. The second time we took the certification audit, no one was opposed to it, and they felt it only right that as beneficiaries they should cover the cost of the audit. We have received attention as our nation's first certified oyster fishery and are taking more and more pride in it. Everyone likes it.

Nowadays, I think it is fair to say we are the most reliable oyster farm in Miyagi Prefecture. Not only are our oysters safe and reliable, but the flavor of our oysters is esteemed. In the past we gave priority to volume, but now, many of us are making efforts to increase the quality further.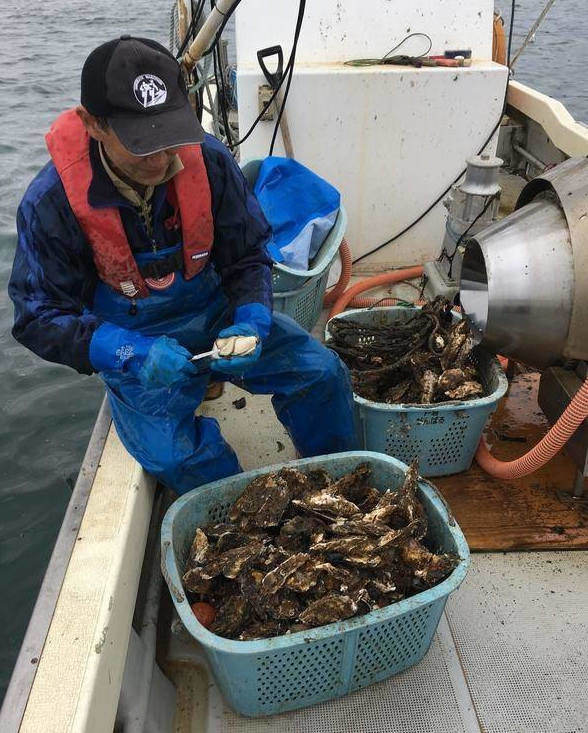 Young Workers Increasing

Just after the tsunami, we had no young cooperative members at all. I think the average age was about 60. Since we decided to distribute a larger numbers of rafts to households with successors, though, the number of members in their twenties and thirties has increased. I feel actually that it is they who have taught us that young people will begin to feel it is worth joining in, if we make high quality products, improve the working conditions, obtain ASC certification and make it possible to produce something good while doing enjoyable work.

We Could Do This Because We Had to Start from Nothing

We are often asked, "Why is this not spreading to other fishery cooperatives even though it so good?" The tsunami actually created an opportunity and we were able to accomplish this because we had lost everything. But it was a Herculean task to recover the sunken rafts and float them again at broader intervals.

Since we were proposing to increase the intervals to 40 meters and give more consideration to neighboring operations, people initially said, "That's very naive. If one party begins to take advantage of the situation, the whole thing will fail. Can we take that risk?" But our fishery cooperative changed the dynamics. And once we changed, things improved steadily. If people were to compete against their neighbors as before, knocking each other down and never yielding, no one would be left surviving now.

********************************************************

New articles from the Research Institute for Creating New Paradigms based on Eastern and Western Wisdom

********************************************************

In this section we introduce the latest articles posted on the website of the Research Institute for Creating New Paradigms based on Eastern and Western Wisdom.

This time we introduce an article from a column by Yoshifumi Taguchi, entitled "The Japanese Way of Life: Beautiful Flow -- Taoist Thought and Japan's Heart." What is 'seeing what cannot be seen, hearing the voice which cannot be heard.'?

The Japanese Way of Life: Beautiful Flow --Taoist Thought and Japan's Heart
https://inst-east-and-west.org/en/taguchi/2019/002663.html

We hope you enjoy reading.

********************************************************

Recommended articles from the JFS Newsletter on sustainability issues in Japan

********************************************************

In this regular section in each issue of the ISHES Newsletter, we recommend past articles from Japan for Sustainability newsletters. The non-profit JFS was active from August 2002 until July 2018, sending out information to the world with the aim of moving society in Japan and the world toward being more sustainable and happy.

The biomimicry coverage on the JFS website has always attracted many readers. Biomimicry involves learning sustainable technologies from nature and living things. Examples include the abalone, which can attach to and detach from surfaces at any time, without the use of adhesives, and the sequoia tree, which can lift tons of water, powered by sunlight.


Identifying Technologies that Learn from Nature -- Introducing the "JFS Biomimicry Project"
https://www.japanfs.org/en/news/archives/news_id027785.html
JFS Biomimicry Interview Series: No.1 First interviewee:Manabu Akaike
https://www.japanfs.org/en/news/archives/news_id027787.html
JFS Biomimicry Interview Series: No.2 Second interviewee:Kiichi Takemoto
https://www.japanfs.org/en/news/archives/news_id027788.html
JFS Biomimicry Interview Series: No.3 Sekisui Nature-TechFoundation Program
https://www.japanfs.org/en/news/archives/news_id027790.html
JFS Biomimicry Interview Series: No.4 Yasushi Umezaki, Environmental Education Planner & Nature Interpreter
https://www.japanfs.org/en/news/archives/news_id027791.html
JFS Biomimicry Interview Series: No.5 Junko Kanehiro, a TV program producer, Jump Corporation Inc.
https://www.japanfs.org/en/news/archives/news_id027793.html
JFS Biomimicry Interview Series: No.6 "Shinkansen Technology Learned from an Owl?" - The story of Eiji Nakatsu
https://www.japanfs.org/en/news/archives/news_id027795.html
JFS Biomimicry Interview Series: No.7 "Technologies Learned from Cells" - Interviewee : Dr. Keiji Fujimoto
https://www.japanfs.org/en/news/archives/news_id027798.html
JFS Biomimicry Interview Series: No.8 Linking Research Labs and Society: JFS Seminar: "What Can Technology Learn from Nature?"
https://www.japanfs.org/en/news/archives/news_id027800.html
Technologies to Save the Earth -- Learning from Nature (Part 1)
https://www.japanfs.org/en/news/archives/news_id031329.html
Technologies to Save the Earth -- Learning from Nature (Part 2)
https://www.japanfs.org/en/news/archives/news_id031396.html
Dragonfly Wing Design Pioneers the Future -- Development of the Micro Wind Turbine
https://www.japanfs.org/en/news/archives/news_id031655.html
Get Inspired by Nature: Showcasing Interesting Examples
https://www.japanfs.org/en/news/archives/news_id031725.html
Applying Evolving Technologies Inspired by Nature to Human Society
https://www.japanfs.org/en/news/archives/news_id031790.html
*--*--*--*--*--*--*--*--*--*--*--*--*--*

We hope you enjoyed reading out newsletter.
Thank you for your kind support.

ISHES Team
Institute for Studies in Happiness, Economy and Society
E-mail: inquiry_en@ishes.org
www.ishes.org/en/

*The Institute for Studies in Happiness, Economy and Society (ISHES) is an organization based in Japan that is working to build a happy and sustainable society. To this end, we need to think about happiness, economy and society together by learning from, analyzing, and thinking about theories and cases in Japan and around the world regarding what happiness is and what kind of economy and society will create and support happiness.

********************************************************
The Institute for Studies in Happiness, Economy and Society newsletter is a free monthly newsletter to keep you up to date with the latest information. ISHES bears no liability for the newsletter's contents or use of the information provided.

We welcome your comments. Please send them to: inquiry_en@ishes.org

Copyright (c) 2019, Institute for Studies in Happiness, Economy and Society. All Rights Reserved.

We invite you to forward this ISHES newsletter and/or use its contents in your own publications, with credit to the "Institute for Studies in Happiness, Economy and Society, www.ishes.org/en/."

To subscribe or unsubscribe your address,
visit https://www.ishes.org/en/newsletter/

Back issues of the newsletter are available.
https://www.ishes.org/cgi-bin/acmailer3/backnumber.cgi
********************************************************