--=----=----=----=----=----=----=----=----=----=----=----=----=----
ISHES Newsletter #38
September 24, 2021
See what's new on our website:
https://www.ishes.org/en/
E-mail: inquiry_en@ishes.org
Copyright (c) 2021
Institute for Studies in Happiness, Economy and Society, Japan
--=----=----=----=----=----=----=----=----=----=----=----=----=----
Dear Readers,
In Japan this month, the weather can alternate quickly between hot and cooler temperatures, with some days feeling like autumn and then bouncing back to summer again. How are things where you live? The body may have to work harder to adjust to the changing weather, but we hope our readers are staying healthy and enjoying the season wherever you are!
In this September 2021 issue we feature the following article.
Kyoto Shinkin Bank Attracts Customers with Transformed Business Model and No Sales Quotas
This is a financial institution with a difference! This month we look at two secrets of success for this shinkin bank (credit union) in Japan -- staying true to its core values, and networking internally to discover solutions.
*********************************************************
Kyoto Shinkin Bank Attracts Customers with
Transformed Business Model and No Sales quotas
*********************************************************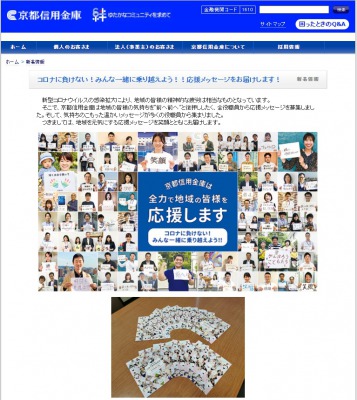 Kyoto Shinkin Bank website
By Institute for Studies in Happiness, Economy and Society, Japan
What is your impression of banks and other financial institutions? For some they conjure up images of being somewhat stiff and formal. In Japan's ancient capital of Kyoto, however, there is a financial institution where people feel comfortable to seek advice when they then need many kinds of solutions. It is the Kyoto Shinkin Bank, which operates in Kyoto, Shiga and northern Osaka areas. What gives them their credibility? This month's ISHES Newsletter explores two of the winning secrets of this bank: staying true to its core values, and networking to discover solutions. (Shinkin banks in Japan are similar to credit unions overseas.)
Staying true to core values
Kyoto Shinkin Bank was established in 1923 and declared itself a "community bank" exactly 50 years ago, in 1971. Since then, it has been working to contribute actively to the local communities it serves. Its credo is "Our shinkin bank strives to develop and train promising human resources and contribute to society and the public based on the three principles of prosperity of members and customers, prosperity of employees and their families, and prosperity of the local community." Instead of a winner-take-all approach, the bank's central business philosophy is to promote the prosperity of the entire community, which will lead to the development of the Kyoto Shinkin Bank as a community-based financial institution, all in the spirit of what goes around comes around. As with many Japanese companies, employees recite the corporate credo every morning to start their work day. They keep the bank's core values in mind with the company policy every day, asking "What can we do for our customers and community?" This identity as a community bank seems to attract many opportunities to the Kyoto Shinkin Bank.
An example of the Kyoto Shinkin Bank's bold approach to challenge conventional thinking is the process of removing all sales quotas that started in 2017. It first conducted a trial at its Kadoma Branch in 2011 by removing quotas, such as the number of loan contracts made. When sales activities were structured based not on quotas but instead by focusing on the customer, employees were able to concentrate on problem-solving for their customers, rather than focusing on making loans. What happened next? Not only did the bank get a positive reaction from customers, sales performance actually improved. That was an ideal outcome. Working with quotas tends to force bank employees to focus attention on meeting their monthly quotas for loan contracts. But if we really think about it, the ultimate objective of quotas should be to solve problems for customers. Increasing the number of contracts should merely be a means of accomplishing this goal.
Nevertheless, as a financial institution that simply accepted quota-setting as conventional wisdom, it took a while to abolish the thinking completely, and it was in 2017 that all branches ended the use of quotas. At first, some staff felt lost and did not know what to aim for at work. The bank started to shift its performance indicators from the number of contracts made to the number of inquiries handled, the result being that work processes themselves were being evaluated. Today, numerical targets are gone and new approaches have been adopted. Staff set their own voluntary goals and discuss them at "one-on-one" meeting with their supervisors and also share them at "one-on-three" meeting with their colleagues every 3 months. To set their goals, staff need to constantly ask themselves, "What is the essence of my work?" Instead of having targets imposed from above, voluntary goal-setting also helps to boost staff motivation.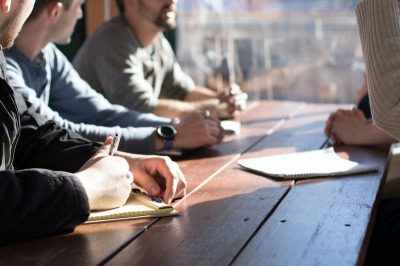 Photo by Dylan Gillis on Unsplash.
Another important initiative to increase staff motivation is the "2,000 Workers Dialogue" that started in 2018. The number refers to the number of employees at the Kyoto Shinkin Bank, including both regular and non-regular workers. So far the dialogues were held five times at 147 locations. All staff participate, on a variety of themes, ranging from personal evaluations to branch operations. They talk with the management team, including even the shinkin bank's president. Some comments made during the dialogues have resulted in changes in the way of doing things. For example, workers now refer to each other by name (with the Japanese suffix -san), not with job titles, and this applies even to supervisors and board members. On Casual Fridays, they can dress casually for work, and this has now evolved into the so-called "10 People 10 Colors" approach that allows employees the freedom to wear a suit, the bank uniform, or their own choice of clothing on any day of the week.
Networking to discover solutions
Another unique initiative is Kyoto Shinkin Bank's in-house online communication platform, which includes a "Lifestyle Questions Matching Board." Employees can post practical questions arising from day-to-day interactions with customers, even if the topic has no direct connection with the bank's business. Someone might ask, for example, "What should I consider when building a two-family home?" Or "Do you have any tips to consider when taking an overnight expressway bus?" Other employees can then add comments and tips based on their own experience. The next meeting an employee meets a customer who asked a question, the employee can share comments from the matching board. The customers are often surprised at the otherwise unexpected advice coming from a bank employee. All of this helps to build customer trust.
This may look similar to web-based forums where people can share tips and advice, but a big difference here is that customers are receiving information from people they know at the Kyoto Shinkin Bank. This can give them more confidence in what they hear than something from the Internet, and also produce responses that are more locally relevant.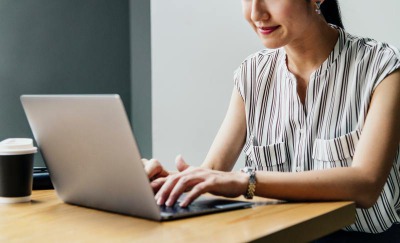 Image by rawpixel.com
How did the shinkin bank come to create such a system? Before establishing it, the Kyoto Shinkin Bank was already keeping internal notes of contact with customers. That helped to enable smooth service of customers regardless of which employee was providing service. But in many cases an employee could not resolve a question or issue alone or within the branch. This is why a business matching service was started, to share solutions and issues about customer businesses across all company branches.
Many of the customers of local shinkin banks are local companies and business operators. Matching businesses companywide can expand the range of possible solutions. The business matching initiative started in 2004, and in 2009, the bank established a "Nice Matching Award" to highlight shining examples of use of the system. The Lifestyle Questions Matching Board mentioned above was an extension of the concept of the business matching board.
Currently, the bank uses both of the in-house online communication boards to find solutions for customers, in public and in private. As a result, the word on the street is, if you have a challenges and need a solution, go to Kyoto Shinkin Bank. These initiatives lead not only to solutions for customers, but also to the "prosperity of local communities" as referred to in its corporate credo, as a result of collaboration among many local businesses.
Besides the "Nice Matching Award," above, Kyoto Shinkin Bank has nine other awards, including the "New Venture Launch Supporter Award" and the "Dream Connector Award" to highlight best practices that are valued by the bank. This kind of recognition facilitates activities that lead to the "prosperity of local communities," by rewarding and shining the spotlight on things that are truly valued, rather than falling back on measures that are more easily quantified such as sales quotas.
The Kyoto Shinkin Bank's initiatives provide some examples of how a local financial institution is striving to focus always on its core values and make its achievements visible. They also provide some valuable insights to many of us who may tend to pursue more immediate goals and returns.
*--*--*--*--*--*
ISHES Team
Institute for Studies in Happiness, Economy and Society
E-mail: inquiry_en@ishes.org
www.ishes.org/en/
*The Institute for Studies in Happiness, Economy and Society (ISHES) is an organization based in Japan that is working to build a happy and sustainable society. To this end, we need to think about happiness, the economy and society together by learning from, analyzing, and thinking about theories and cases in Japan and around the world on what happiness is and what kind of economy and society will create and support happiness.
********************************************************
The Institute for Studies in Happiness, Economy and Society newsletter is a free monthly newsletter to keep you up to date with the latest information. ISHES bears no liability for the newsletter's contents or use of the information provided.
We welcome your comments. Please send them to: inquiry_en@ishes.org
Copyright (c) 2021, Institute for Studies in Happiness, Economy and Society. All Rights Reserved.
We invite you to forward this ISHES newsletter and/or use its contents in your own publications, with credit to the "Institute for Studies in Happiness, Economy and Society, www.ishes.org/en/."
To subscribe or unsubscribe, please visit
https://www.ishes.org/en/newsletter/
Back issues of the newsletter are available here.
https://www.ishes.org/cgi-bin/acmailer3/backnumber.cgi
********************************************************