--=----=----=----=----=----=----=----=----=----=----=----=----=----
ISHES Newsletter #43
February 25, 2022
See what's new on our website:
https://www.ishes.org/en/
E-mail: inquiry_en@ishes.org
Copyright (c) 2022
Institute for Studies in Happiness, Economy and Society, Japan
--=----=----=----=----=----=----=----=----=----=----=----=----=---
Dear Readers,
Torrential rainfall recently caused landslides and flooding in Rio de Janeiro, Brazil. We send our condolences and encouragement to everyone who has been affected.
In this issue of the ISHES newsletter, we report on the various support activities provided to help the Japanese coastal town of Atami recover after a mudslide in 2021.
- Izusan Disaster Recovery Support in Atami, Japan: Seven Month Activity Report
On July 3, 2021, a mudslide disaster struck the Izusan district of the Japanese coastal town of Atami on the Pacific coast. Seven months have now passed, and the daily life appears to have regained some normalcy, but the district's usual vibrance and bustle have yet to recover. In this article we report on the recovery support activities conducted by the Atami-based organization Miraisozobu.
**************************************************
Izusan Disaster Recovery Support in Atami, Japan:
Seven Month Activity Report
**************************************************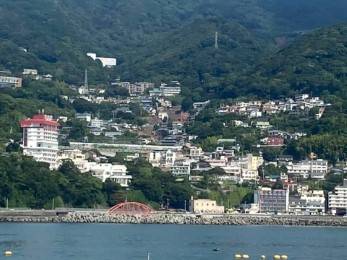 A mudslide struck the Izusan district of Atami
By Junko Edahiro, President of the Institute for Studies in Happiness, Economy and Society (ISHES), Japan
We express our deepest sympathies to the victims and pray sincerely for those who lost their lives in a landslide that occurred in the Izusan district of Atami City in Shizuoka Prefecture, Japan, on July 3, 2021.
It has been seven months since that day when residents' smartphones buzzed with an alert about a "Mudslide disaster in the Izusan district" and people heard emergency vehicles racing back and forth with sirens blaring. Today the routines of daily life seem to have returned, but recovery work continues in the affected area. The liveliness and bustle of the local area have yet to return.
Headquartered in Atami, "Miraisozobu" (operating in English as the "For Future Company"), a social enterprise I co-founded, launched the "Izusan Disaster Recovery Support Team" the month after the disaster, has been providing support in response to the needs of the affected area since the disaster struck. A bank account was opened to collect and distribute relief funds and donations, as well as contributions from sales at our online shop. We express our sincere thanks for all who provided support. (As of the end of January 2022, the account balance was 1,687,162 yen or about US$14,600.)
This issue of the ISHES Newsletter provides a report on activities to date by the Support Team and Miraisozobu.
Disaster strikes, Facebook group established, meetings organized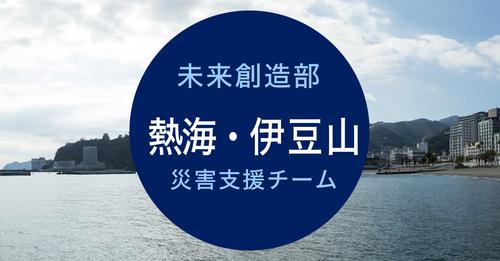 Atami Mudslide Disaster Support Team Facebook group
The day after the disaster, Miraisozobu established the "Atami Miraisozobu Izusan Disaster Support Team" Facebook group as a platform to share information on the actual situation in Atami. The Support Team has continued working to provide whatever support is needed, not only emergency-relief but also assistance to recover and restore community life, economy, and vitality in the area in the medium- and long-term, working together with anyone willing to support the activities.
Immediately after the disaster, the Support Team visited city hall three times a day to check the relief supplies storage depot and report the status via the Facebook page and e-mail notifications. Responding to changing circumstances on the frontlines, the team connected people who were offering relief supplies with the appropriate personnel at city hall. We ended our information reporting service on relief supplies on July 21, 2021, when a community-run liaison desk was set up the city hall.
At the same time, Miraisozobu established a platform to exchange information with local residents about the affected area, needs, and relief work. Meetings were held twice a week right after the disaster, and are now held periodically as needed. The information exchange meetings were used to put ideas into action, such as finding alternative space as a workplace for disabled persons who were affected by the disaster, and providing backpacks to cheer up children.
Support for children in Izusan district
Three weeks after the disaster, just when summer holidays were set to begin for most schools, backpacks filled with supplies from all around the country were given to some 120 children living in the Izusan district. This was a project initiated by Aimi Kawase of a local elder-care taxi company "Izuohana," with the cooperation of companies and organizations linked with the Support Team.
On July 28, 2021, the backpacks were handed to the district superintendent of elementary and junior-high schools at city hall, and then given to children through pre-schools and schools. This project was for children who had to endure difficult circumstances after the disaster and could not easily play with friends or enjoy their daily routines. The aim was to encourage and let them know that there were adults who cared for them.
On weekends, while parents were engaged in restoration and recovery efforts, the Support Team offered a place where affected children could spend some time with their friends, with support from KATARIBA (an NPO supporting teenagers), Civic Force (an organization providing emergency assistance), and Shizuoka Kyoiku Net (an NPO assisting human resource development for children and youth). At first, they used a vacant room in a hotel that was serving as an evacuation center. Then, when the evacuation center closed in September 2021, this moved to a co-working space run by Miraisozobu.
There, children could enjoy delicious lunches caringly prepared by local chefs using produce and fish donated by people in the community, joining waffle making workshops and piano lessons, and spending time leisurely doing whatever they wish, such as playing or just lying around. A Christmas party was held in December, and in January 2022, the program started offering light meals and cookie-baking workshops, with the funding from the Support Team, all to give kids the chance to relax and smile.
In October 2021, some disaster victims needed winter wear when temperatures dipped. Since children's clothes were in high demand, we received donated clothes from organizations and individual supporters and passed them along to the children and parents who gathered at weekend events.
Supporting local fisheries and ocean conservation
Since the local fishery was seriously affected by the disaster due to debris washed into the harbor and damage to fishing boats and nets, the recovery of the local fishing industry is expected to take some time. To help with the recovery and resumption of operations, Miraisozobu launched sales of boxed sets of Izusan marine products that included a donation, with sales done in collaboration with the "Gift from the Ocean" online shop's partner, Uda Suisan Co. A limited campaign of 100 sets to support the fishing industry sold out in two weeks, and the second campaign is currently running. After the fishing season of Japanese spiny lobsters was reopened in September, another buy-local project was launched to support the community.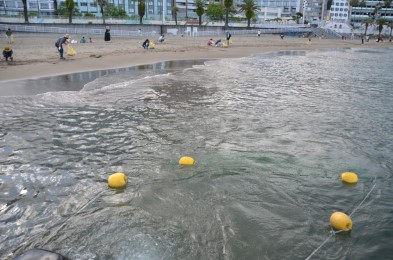 A clean-up campaign of the Atami Sun Beach
On August 3, 2021, the Youth Clubs of the Atami Hot Spring Ryokan and Hotel Association and the Atami Chamber of Commerce & Industry jointly organized a clean-up campaign of the beach, sea surface and sea water of the Atami Sun Beach. The event was held in the hope of restoring the area for tourists to enjoy, by removing the woody debris washed down from the disaster area in Izusan. More than 100 people participated, twice as many as initially expected, and they collected driftwood as well as litter and plastic using strainers. Miraisozobu installed a custom net on a workboat and worked together to collect floating and submerged rubbish and clean up the sea bottom as well.
On September 15, 2021, we surveyed the seabed of the Atami Sun Beach, jointly with the Youth Club of the Atami Hot Spring Ryokan and Hotel Association. The major industry of Atami and Izusan is tourism, and we are hoping to help the local economy by continuing to be involved with the survey and maintenance to ensure that people can enjoy the beach.
Reaching out through events
Miraisozobu has organized various charity events at the Marine Square Caf? on the first floor of its office building. In July 2021, we held a charity seafood barbecue event, set up a donation box, and allocated part of the sales to Support Team activities. Since October after the state of emergency was lifted, we have been organizing live charity concerts featuring volunteer musicians. The audience enjoys the music and makes donations, a portion of which we receive for activities.
On July 28, 2021, we held a talk event featuring members of local information exchange gatherings to report on the situation in Atami at the time of disaster and thereafter, on collaboration with local supporters, and on lessons learned by those who experienced the disaster first-hand.
On September 29, 2021, we organized an online salon titled "How to prepare for the next disaster," featuring Hiroshi Hida from OPEN JAPAN, an organization that provided relief support for Atami. People asked many questions. What happens and when after a disaster strikes? How can people cope? What should be done to prepare for future disasters? What can municipalities, businesses, and residents do on their own and together to organize effectively. He was able to reply based on his own direct experience on the frontlines.
Looking to the future: Restoring jobs and revitalizing the affected area
RCF, an association specializing in coordinating social projects, called for grant proposals, and Miraisozobu's proposal to organize a program for disaster support organizations in heavy rain disasters was chosen. We will receive a subsidy for our activities from February 2022 to March 2023, for a project to help the area recover from the disaster and restore jobs, connections and smiles in the community. We are planning to conduct projects to secure supplementary income for fisheries workers and residents, rebuild the community, and provide mental support for residents of the Izusan district.
We will continue to carefully listen to the needs of local people and work together to promote restoration and recovery in medium and long-term, as well as to bring back the bustle, economy, and vitality of the community.
*--*--*--*--*--*
ISHES Team
Institute for Studies in Happiness, Economy and Society
E-mail: inquiry_en@ishes.org
www.ishes.org/en/
*The Institute for Studies in Happiness, Economy and Society (ISHES) is an organization based in Japan that is working to build a happy and sustainable society. To this end, we need to think about happiness, the economy and society together by learning from, analyzing, and thinking about theories and cases in Japan and around the world on what happiness is and what kind of economy and society will create and support happiness.
********************************************************
The Institute for Studies in Happiness, Economy and Society newsletter is a free monthly newsletter to keep you up to date with the latest information. ISHES bears no liability for the newsletter's contents or use of the information provided.
We welcome your comments. Please send them to: inquiry_en@ishes.org
Copyright (c) 2022, Institute for Studies in Happiness, Economy and Society. All Rights Reserved.
We invite you to forward this ISHES newsletter and/or use its contents in your own publications, with credit to the "Institute for Studies in Happiness, Economy and Society, www.ishes.org/en/."
To subscribe or unsubscribe, please visit
https://www.ishes.org/en/newsletter/
Back issues of the newsletter are available here.
https://www.ishes.org/cgi-bin/acmailer3/backnumber.cgi
********************************************************