--=----=----=----=----=----=----=----=----=----=----=----=----=----
ISHES Newsletter #39
October 25, 2021
See what's new on our website:
https://www.ishes.org/en/
E-mail: inquiry_en@ishes.org
Copyright (c) 2021
Institute for Studies in Happiness, Economy and Society, Japan
--=----=----=----=----=----=----=----=----=----=----=----=----=----
Dear Readers,
In Japan, temperatures have become more moderate now. Autumn is the best season for sports here, and people enjoy playing or watching baseball, tennis, football, and more.
What do you enjoy in the season where you are now?
In this October 2021 issue we feature the following article.
A company in Odawara on the Pacific coast of Japan produces local electricity for local consumption, and through its business offers many other solutions to the local community. What kinds of activities is it doing, and how is it all underpinned by the spirit of virtue and giving back?
********************************************************
Local Renewable Energy Production for Local Consumption
in Odawara, Inspired by 'Houtoku' (Repaying Kindness)
********************************************************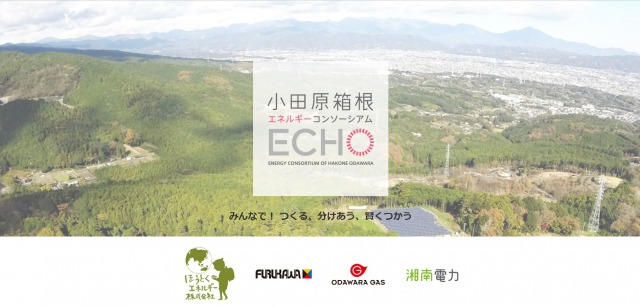 Energy Consortium of Hakone Odawara (ECHO) website
By Institute for Studies in Happiness, Economy and Society, Japan
Odawara is a city of about 188,000 in Kanagawa Prefecture along Japan's Pacific coast. A unique endeavor is being undertaken here to connect local energy production and consumption with solutions to a variety of other local issues. Just what sort of endeavor is this? To find out, we talked with Tsuyoshi Furukawa, vice-president and CEO of Shonan Power Co., Ltd.
The Early Beginnings
Four companies came together in August 2016 -- Houtoku Energy Co., Furukawa Co., Odawara Gas Co., and Shonan Power Co. -- to form the Energy Consortium of Hakone Odawara (ECHO), creating a framework for producing energy locally using natural resources, and supplying it to the local community. The companies share ideas and collaborate closely to provide energy and contribute to the community. Below we briefly introduce Hotoku Energy, and then look more closely at what Shonan Power is doing.
The motivation for creating Houtoku Energy Co. came from the earthquake and tsunami that struck Japan on March 11, 2011. The loss of power from the tsunami-stricken Fukushima Daiichi Nuclear Power Station forced municipalities, including Odawara City, to impose rolling blackouts. Odawara residents realized that their electricity was actually being generated 300 kilometers away.
Electric power is something we cannot do without in our current lives. To prepare against disasters that could occur at any time, shouldn't we be producing our own electricity? With that in mind, Houtoku Energy Co. was launched with funding from 38 local companies as well as a citizens' fund. The company provides electricity from 100% solar power.
As for Shonan Power Co., its president, Masaki Hara, also serves as president of Odawara Gas Co., which is primarily engaged in sales of city gas; and its vice-president Tsuyoshi Furukawa (mentioned above) also represents Furukawa Co., which is mainly engaged in propane gas sales. City gas and propane companies are traditionally rivals that compete for customers.
How these strong ties arose between these two erstwhile rivals appears to have started from a time when they happened to be seated close together as spectators at a sporting event. As they shared this passion, they began conversing with each other. The two men found that they were aware of the same issues and shared the same objectives, so they began holding a series of discussions to formulate strategies. Finally, they sought and gained the understanding of others around them and together began promoting a local-production-for-local-consumption energy initiative.
As you can see, each company in the ECHO consortium provides a form of energy, but the traditional rivals have found ways to work together for the benefit of the community. Now let's dive deeper into one company.
Shonan Power's Mission of Giving Back to the Community Resonates with Customers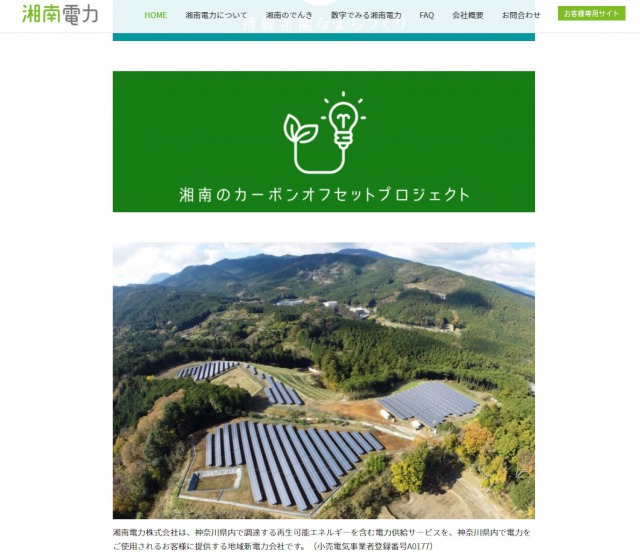 Shonan Power Co. website
Shonan Power's mission is, "Through energy, we bring together people's virtues and transform them into community power." The message is built around the word "virtue" (
toku
), inspired by the Odawara-born nineteenth century sage Sontoku Ninomiya (1787-1856), who wrote about the concept of
houtoku
(moral requital, gratitude, repayment of a person's kindness; or more literally, by means of virtue, repay virtue) during the late years of the Edo period. This message resonated well with the public when Shonan Power included it in the company's mission statement. How does it relate to the company's mission? The following public message from Shonan Power helps explain things.
============
Let's take a little look at the future of the community we live in, and consider for a moment the energy we use every day?
We at Shonan Power Co. are striving to find solutions for the community through energy projects. For example, local production for local consumption of electricity. By producing electricity locally, to be used locally, we improve the local economic circulation. We use the fees you pay us to provide electricity to support organizations and companies that contribute to the community. Electricity use and daily life can create benefits for the region. We are creating an innovative system for this.
Among the ideas of Sontoku Ninomiya, who is connected with our local area, was the saying, "By means of virtue, repay virtue." In this way of thinking, the strengths possessed by each person are to be made useful to society.
Our mission is to gather the "virtues," that is, the strong points, from all of you who have responded to Shonan Power Co.'s ideas and transform them into power for the community. What we are aiming for is a sustainable community in which people mutually support and contribute to each other. This is not limited to energy provision, but with that as a hub for all lifestyle-related infrastructure, to fill in all the gaps in the community.
In an age when we can freely choose our source of electricity, to choose a particular source is to consider our lifestyle. To consider our lifestyle is also to consider the future of our community. The choices made by each of us have great power for changing our community. We ask you to entrust us with your virtues and thoughts.
============
We are preparing a mechanism to provide one percent of electric bill fees paid to Shonan Power Co. for the resolution of local issues. When our customers apply to us for electric power service, they select recipients that they would like to support from the plans we are proposing. Our support plans span a diverse range, from the local pro soccer team to environmental or disaster-preparedness, and assistance for persons with disabilities.
Among these, there has been great response to our plan to support
Kodomo Shokudo
(Children's Cafeterias) established jointly with Odawara City, with nearly 500 applicants specifying it. In the case of ordinary households, one percent of their annual electricity fees comes to about 1,000 yen, so 500 of these adds up to about 500,000 yen per year (about US$4.400). Odawara currently has six
Kodomo Shokudo
, so the funds are being divided up among them for their use.
The electric power market has been being liberalized, and users can now choose which electric power company they want to use. Appealing to potential customers merely on the basis of cheaper cost would mire the industry in a price war and would be unsustainable. We provide a broad menu of choices for contributing to the community and we have our customers participate in the ones they have most interest in. Shonan Power's approach to customers is to appeal to them that they can choose electric power companies with whom they contract, resulting in lower electricity fees.
Expanding Renewable Energy
Regarding the scale of electric power handled by Shonan Power Co., as of August 2021, our generating capacity was 49.26 megawatts and we were serving 3,755 users, and these numbers continue to grow. As our customer base and the amount of power we produce increase, the problem arises that the ratio of renewable energy decreases.
As a countermeasure to that, we have introduced a "Zero Yen Solar" mechanism to increase the amount of electric power from renewable energy sources. This is a service for installing solar energy generation systems on homes at no initial cost. Shonan Power Co. bears the costs for installing the equipment, and subsequently owns the power-generating facilities for ten years after their installation. During those ten years, the user pays electric fees to Shonan Power Co. for use of the electric power, but when the ten years are up, the ownership of the equipment is transferred to the user at no cost.
Kanagawa Prefecture also provides subsidies, so this mechanism has economic advantages for users. Shonan Power does not promote it on that basis alone, but in combination with contributing to the community, which we want our users to consider. For example, during disasters when electric power stops, the solar panels generate more electricity during the day than the house itself can use, so it can be offered to the neighbors for recharging mobile phones or similar purposes, thus coming in handy to the community during times of disaster. The idea of everyone using their own ingenuity to realize community development in which people support each other is a part of this.
Consideration of electric vehicle (EV) usage is also being promoted. Nearly all of the renewable energy in Odawara is produced through photovoltaic generation, so to enable steady utilization, storage batteries are essential. Normally, automobiles are unused 90% of the time, so by utilizing EVs as mobile batteries it would be possible to provide electricity to any place it is needed at any time necessary. Currently we are conducting demonstration trials to make electrical power grid more stable by connecting to EVs.
As the use of renewable energy is tied directly with increasing the value of living, we have started conducting transactions with environmental value. For each kilowatt of electric power used at the homes of customers utilizing the Zero Yen Solar scheme, one yen of credit is awarded. Considering the average amount of electricity used by ordinary households, that comes to about 100 yen per month.
Local shops cooperate as well, adding 200 yen so we can issue 300-yen coupons that can be used at the shops and provide them to our customers. From our customers' viewpoint, they can have solar panels installed free of charge and receive 300 yen worth of coupons each month. That comes at a cost of 200 yen to the shops, but they can expect to attract customers that way, so they can count on recovering it.
We have embarked on a social experiment with the goal of bringing about behavioral modification toward decarbonization by making environmental value visible, assigning it worth and creating a unified virtuous cycle involving the local community. Local restaurants and other businesses are visualizing the CO2 emissions that result from their own activities and offsetting them with credits for the use of energy by Zero Yen Solar users, and as a consideration for that, they provide coupons that can be used at those businesses.
**************
Future Outlook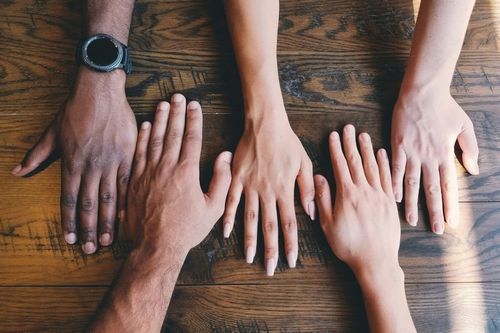 Photo by Clay Banks on Unsplash.
Tsuyoshi Furukawa expresses passion about Shonan Power Co.'s future, saying, "While continuing to expand our community contribution activities and augment our power sources, we will develop our business toward the realization of our vision of building a community in which people support each other through sustainable local infrastructure." He also speaks of expanding his company's dreams with the hope that "In the future, we can make efforts not only in energy, but also in fields such as water, construction and transportation that are also essential to our lives."
He says, "I feel great joy to be able to implement community development as a business and contribute to the local community. People get together to discuss and make decisions on what to do next, and we also learn big lessons through this process. I strongly sense that the spirit of "repaying kindness" that everyone possesses becomes the energy that people pour into these efforts."
As he speaks of the joy he feels, Furukawa also shares his hope to pass the foundations of the initiative they have constructed on to the next generation. We will keep an eye on Shonan Power Co. in the future to see how things develop and if the next generation picks up the torch.
*--*--*--*--*--*
ISHES Team
Institute for Studies in Happiness, Economy and Society
E-mail: inquiry_en@ishes.org
www.ishes.org/en/
*The Institute for Studies in Happiness, Economy and Society (ISHES) is an organization based in Japan that is working to build a happy and sustainable society. To this end, we need to think about happiness, the economy and society together by learning from, analyzing, and thinking about theories and cases in Japan and around the world on what happiness is and what kind of economy and society will create and support happiness.
********************************************************
The Institute for Studies in Happiness, Economy and Society newsletter is a free monthly newsletter to keep you up to date with the latest information. ISHES bears no liability for the newsletter's contents or use of the information provided.
We welcome your comments. Please send them to: inquiry_en@ishes.org
Copyright (c) 2021, Institute for Studies in Happiness, Economy and Society. All Rights Reserved.
We invite you to forward this ISHES newsletter and/or use its contents in your own publications, with credit to the "Institute for Studies in Happiness, Economy and Society, www.ishes.org/en/."
To subscribe or unsubscribe, please visit
https://www.ishes.org/en/newsletter/
Back issues of the newsletter are available here.
https://www.ishes.org/cgi-bin/acmailer3/backnumber.cgi
********************************************************